f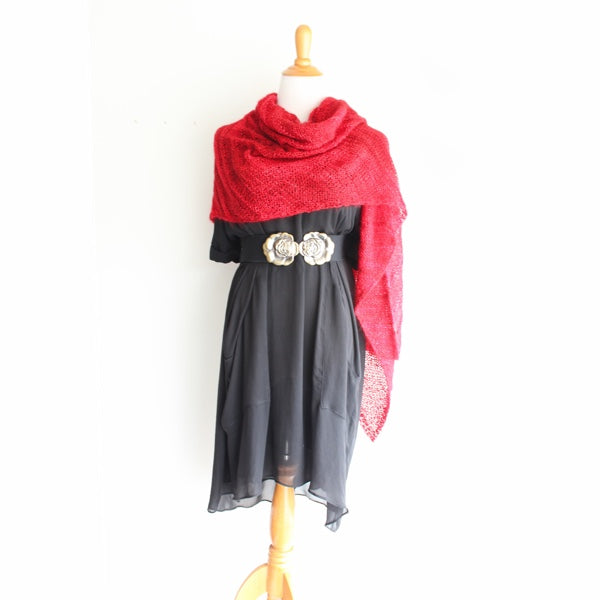 Cottage Wrap (Handmaiden Maiden Hair) Project
Description
This simple wrap combines two fundamentals of knitting to create a reversible, welted texture: stocking stitch and reverse stocking. It is knitted on the bias, increasing in width as you go, so you can make it any size you like and use any tension of yarn you like – it's a great stash-buster! The pattern may look long and complicated, but it isn't, it's just written with detail for inexperienced knitters and people with short attention spans. The pattern repeat is long, so a chart is included to guide you and help you keep track of where you are in the pattern. You can use any yarn you like, which makes it a great stash buster (see amounts below).
Red Wrap
Pattern Updated Sept 11, 2021
Section 1, R4: Sl1, k1, M1R, k2, M1L, k 1, Sl1. (8 sts)
Size
Depends on your yarn and the size you desire: approx 82"/205cm long (from tip to tip) & 20"/50cm deep (at longest point).
Yarns
The amount of yarn you use is flexible and depends on the type of fibre you choose and the thickness of the yarn - you'll probably need 2 scarves worth of yarn. Yarns that are knit as a looser fabric will go further, yarns knit tighter may require some extra, especially bulky to super bulky weight yarns. Use a needle size that works for your yarn. 
      General Yardage Requirements
3sts/inch - 550m/610yds

3.5sts/inch - 690m/755 yds

4 sts/inch - 825m/905 yds

4.5 sts/inch - 915m/1005 yds

5 sts/inch - 1000m/1100 yds

5.5 sts/inch - 1100m/1200 yds

6 sts/inch - 1185m/1300 yds

6.5 sts/inch: 1260m/1370yds

7 sts/inch - 1275m/1400 yds
Notions