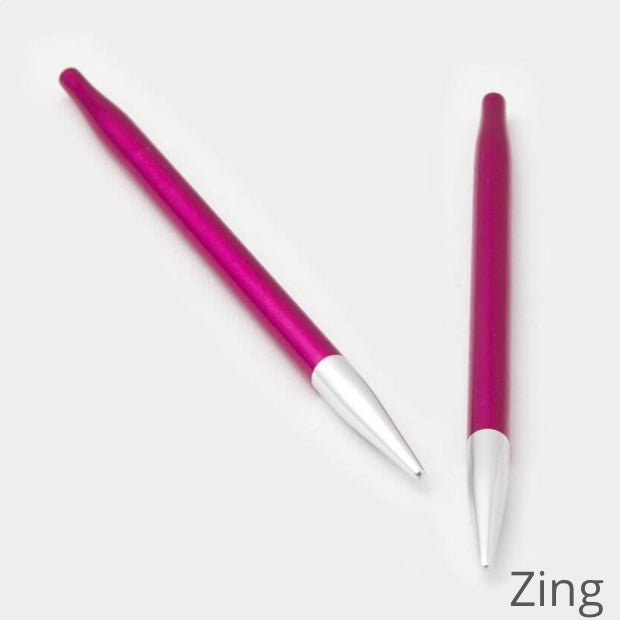 Knitters Pride Interchangeable Circular Needle TIPS
Set of two needles, for 16"(40cm) needles use short tips. For matching Cables see here.
Note: Knit Picks & Knitter's Pride needles are made by the same manufacturer and except for colour are exactly the same product. You can mix the tips and cords between the two brands. If we don't have your size in stock in this brand try checking our inventory of  Knit Picks, it may be there. 
Basix (Wood - Beech)
These interchangeable circular needles, with their polished beechwood surface, work well with all yarns. The smooth connector join insures easy stitch glide with no snagging. 
Dreamz (Wood - Laminated Birch)
The polished wood surface of Dreamz knitting needles works effortlessly with every type of yarn without slowing down stitch rhythm. Range of radiant colors for easy identification and organization. Perfect points, flawlessly tapered - ideal for all yarns and every project. Each needle tip is imprinted with the needle size for ease of use.
Karbonz (Carbon Fibre)
New Age Needles made from high-tech Carbon Fibre, one of the most versatile materials used in the manufacture of new generation aircraft, space ships and automobiles. Carbon fibre is characterized by great flexibility, low weight, high resistance, warm feel, high tensile strength, and a surface that helps the stitches move smoothly along the needle.
Nova Platina (Chrome Plated Brass)
These needles are smooth to the touch, with gradually tapered points and a polished surface. The innovative design enables superior stitch glide and no snagging. Excellent for all levels of knitting experience, including beginners.
Zing (Aluminum)
Zing Interchangeable circular needles come in two lengths and color-specific sizes. Clearly seen sizes are laser printed for long wear. The no-kink cord and the smooth join ensure no snagging. Zing interchangeable circular needles are manufactured in superior grade lightweight aluminum that provides a smooth glide for all yarns. The points are flawlessly tapered and ideal for all yarns and every project.