f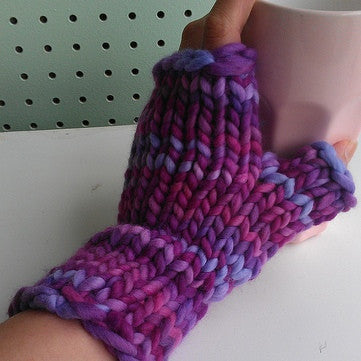 Simple Wristlets Pattern FREE
These wristlets are fast, simple, and very satisfying. They make quick, easy gifts that stand out. The yarn's texture and depth of colour works with the simple design to create extra interest and a unique, handmade aesthetic. For a pop of colour, cast on and cast off using a contrasting colour in the same yarn.
NOTE 
If using Malabrigo Rasta:
go up to 9mm/US15 needles
omit 1 row in the thumb gusset (ie. skip Row 19)
Materials
8mm double pointed needles
1 skein Malabrigo Gruesa or Malabrigo Aquarella (100g/59m) (super bulky yarn)
3 jumbo stitch markers, locking or split
scrap yarn & darning needle
7mm crochet hook (optional) 
See projects on Ravelry.