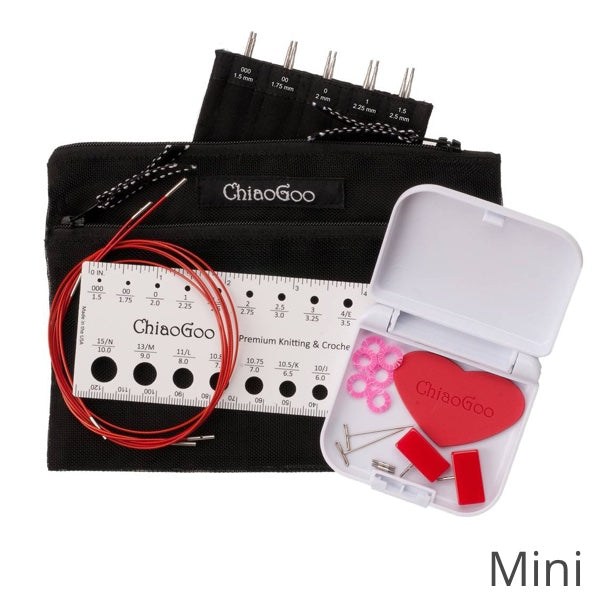 ChiaoGoo Twist Mini Interchangeable Set
We currently have 2 in stock.
Each set comes with ChiaoGoo Twist Red Lace Interchangeable Set comes with their high-quality stainless steel needle tips and red nylon-coated steel cables. The mini set is ideal for knitting socks in the magic loop technique. Chaiogoo interchangeable needles are known for their smooth transitions and secure connections. Mini sets come in 2 length needle tips: 5"/13cm (regular size) and 4"/10cm (hat size); if you want to knit hats you should get the set with the 4"/10cm tips). The MINI system is NOT compatible with the other Chiaogoo interchangeable systems (the cords and needle connections are extra thin).
EXTRA CABLES ARE AVAILABLE HERE
5"/13cm tip (regular size) set comes with:
5 tip sizes US sizes 000, 00, 0, 1, and 1.5/ Metric sizes 1.5, 1.75, 2.0, 2.25, and 2.5 mm
3 cables to make circular sizes 24", 32", and 40" (

14"/35cm x 1, 22"/55cm x 1, 30"/75cm x 1)

2 mini cable connector
2 mini end stoppers
2 T-shaped keys
1 rubber gripper
1 needle gauge
6 stitch markers
compact, black mesh pouch
a sleeve to store your tips in
 4"/10cm tip (hat size) set comes with:
5 tip sizes US sizes 000, 00, 0, 1, and 1.5/ Metric sizes 1.5, 1.75, 2.0, 2.25, and 2.5 mm

4 cables to make circular sizes 16", 22" and 30" (

8"/20cm x 2, 14"/35cm x 1, 22"/55cm x 1)
2 mini cable connector
2 mini end stoppers
2 T-shaped keys
1 rubber gripper
1 needle gauge
6 stitch markers
compact, black mesh pouch
a sleeve to store your tips in