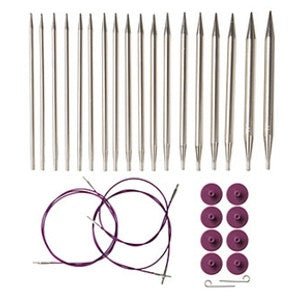 Knit Picks Metal Interchangeable Circular Knitting Needle SETS
We currently have 2 in stock.
This set is a great starter set for any knitter, beginner or experienced. Knit Picks has assembled knitting needles and cable lengths in the most popular sizes and packaged them into a clear snapped vinyl pouch. Each needle tip length is 4 3/4 ".  The sizing of the Knit Picks interchangeable cables refer to the total length achieved when the needles tips are attached to the cables. Set is made of Nickel Plated brass.
KNITTING NEEDLE TIPS: US Sizes: 4,5,6,7,8,9,10,10.5 and 11 (3.50mm, 3.75mm, 4.00mm, 4.50mm, 5.00mm, 5.50mm, 6.00mm, 6.50mm, and 8mm)
CABLES: 2 each of 24" and 32" lengths
ACCESSORIES: 9" x 5" snapped clear vinyl needle case, 8 end caps and 2 cable keys
The pouch has 9 needle pockets to hold your tips and two 4 1/2" pockets on the back of the snap case to conveniently store your cables. For expanded versatility, add additional sizes to your collection with our interchangeable  needle tips  and  cables  available separately.