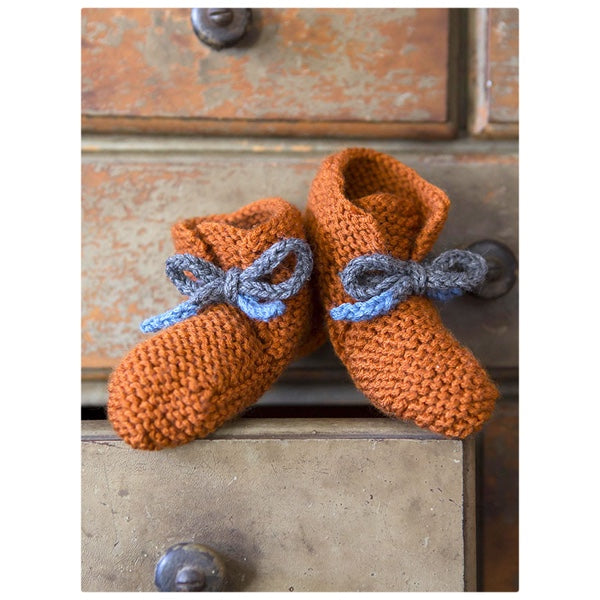 Berroco Rerun Baby Booties Kit PRE-ORDER
THIS KIT IS A PRE-ORDER (see details below)
Inspired by the shape of Emily's Maine winter boots, Rerun is a pair of booties for your little one's first winter.
Skill Level: Advanced Beginner to Intermediate
The Yarn
Berroco Vintage Baby features an even softer blend of machine washable fibers in a DK weight. The two-ply yarn has a slight sheen and is perfect for all your projects that need a gentle touch. It comes in a smaller, 50g ball and lots of baby-happy colours.  Berroco Vintage Baby is a double knitting weight yarn that's great for just about everything: babies, kids, men, blankets, afghans, etc. It is machine washable, soft, easy to work with and comes in a spectrum of great colours. It's a blend of wool and high-end synthetic fibres, but it isn't shiny (or squeaky), and doesn't feel acrylicy.
Gauge: 24 sts and 48 rows = 4" in Garter st
Skills: reading a pattern, decreasing (K2tog & SSK),   knitting in the round on double-pointed needles, i-cord, picking up and knitting stitches,  seaming (mattress stitch), weaving in ends.
Size
one size

Approximately 2½" high x 4" long (foot) 
Kit Includes
Pre-Order
Please note, while these kits are a special order, we stock the yarn all year round, and generally the chances are good that we will have your colour in stock and your kit will be ready quickly. 
These kits as a special-order and we aren't stocking them in the store on a regular basis - you have the option to order it any time (it will be available to purchase as long as the manufacturer makes it available to us). Your kit will ship or be available for pick-up once it arrives, and we will contact you. If you need your kit for a specific date please let us know and we can find out if it's feasible.