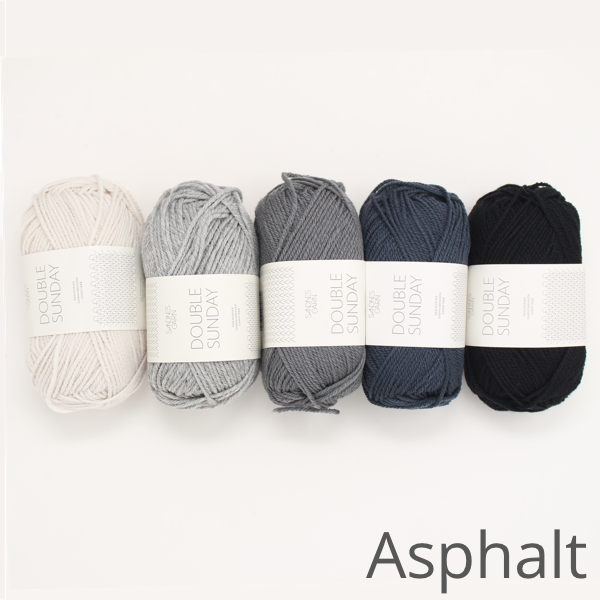 Easy Garter Scarfy-Wrap Kit PRE-ORDER
PRE-ORDER
These kits are pre-orders, please read below for more information.
This project is the brainchild of my friend Jo, and I'm very grateful that she came up with this simple solution because it's GREAT! This wrap drapes like a big scarf, but is also equally wearable as a wrap. The pattern is almost totally brainless; it's a great second or third project for a beginner knitter, but it also works equally well for more experienced knitters hanging out on the patio with a beer or a cocktail.
You can choose one of our colour combinations, put together something from your own inspiration, or combine the two and use our palette as a jumping-off point and curate your own perfect colour experience. We're happy to help you any way we can. We stock the yarn, Sandnes Garn Double Sunday, all year round. 
This kit can be used for any kind of scarf or wrap project. 4 balls of Sandnes Garn Double Sunday is enough for a conventional 6" wide double-wrapped scarf (about 6 feet long (of 1.8m). For a standard triangular shawl (like Boneyard) you'll need 5 skeins or more. 
The colourway in the photos is BRIGHT LIGHTS
Skill Level
Beginner (a great project after you've made a scarf)
Skills include: cast-on, knit, increase, bind-off, weave-in ends, reading a pattern 
Size
13″ deep, 22" wide at bottom, 66" wide at top 
Kit Includes:
Kit DOES NOT Include:
8mm/US11 needle (optional, for bind-off)
PRE-ORDER
These kits are pre-orders and are assembled just for you when you place your order! We carry the yarn, Sandnes Garn Double Sunday, in stock year-round and are constantly reordering it, but if we are out of stock in any of your colours we will let you know and confirm a substitution.