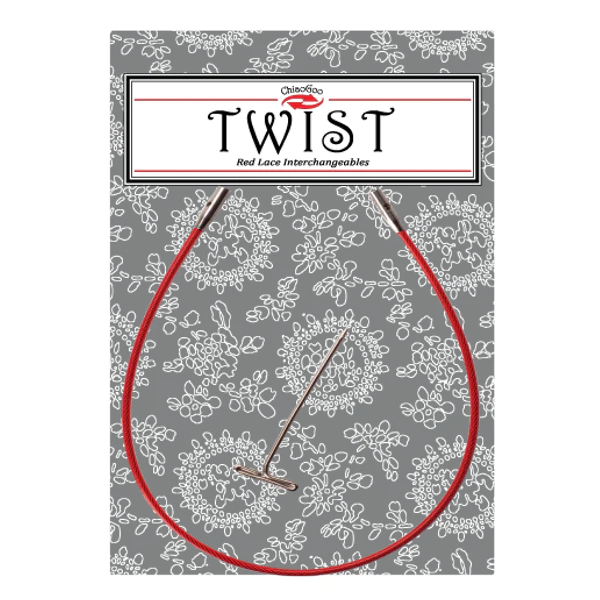 ChiaoGoo Cables/Cords TWIST SHORTIES
We currently have 1 in stock.
Chiaogoo TWIST cables are memory-free!  They consist of a multi-strand, steel cable coated with red nylon. Lifeline holes can be found at each end of these cables. Insert the T-shaped tightening key into the lifeline hole to assist with securing your tip/cable connection. SPIN tips will work with TWIST cables. 
RED SHORTIES cables are for use specifically with Mini sized Shortie Tips, ranging from 1.5mm-3.25mm (US 000-US3) 
BLUE SHORTIES X-FLEX 

fit all Shorite tips marked [S] in sizes 3.5mm (US 4) through 5.0mm (US8)

Shorties: the 2"/5cm package contains 3 cables, which can be combined with tips to make flexible DPN's.
Notes on Cord Lengths
Chiaogoo cord sizes (50", 37", 30", etc) are for the cord alone, and unlike other brands (which measure from tip to tip) DO NOT include the length of the tips in the measurements. For example, a 50" cord will make 60" needles if you have 5" needle tips
2"/5cm, 5"/13cm, 6"/15cm cables are recommended

 

for use with

 

Chiaogoo Shorties (3") tips, and are too short for 4" and 5" needle tips.
8"/20cm cables are recommended for 

4" needle tips (to form 16"/hat size needles)

14"/35cm and longer cables are recommended for both for 4" and 5" needle tips.