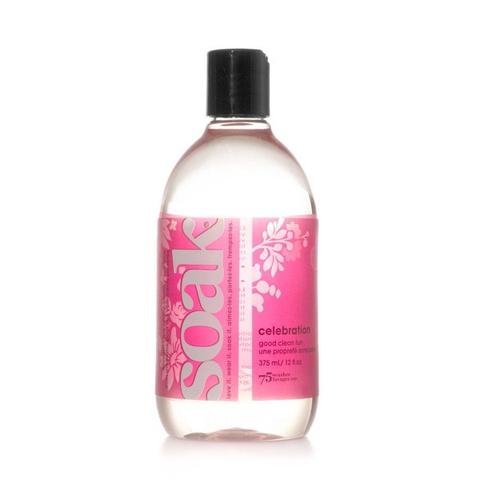 Soak Wash 375mL/12oz.
We currently have 6 in stock.
Soak is a super easy, eco-friendly, no-rinse wash for hand or machine washing delicates, from lingerie to cashmere. Soak products are manufactured in Toronto Canada and are available in an assortment of fresh fragrances plus Scentless (for your sensitive side).   
How it works
Just Soak and squeeze. No need to rinse. Lay knits flat to dry. Wash sets (like lingerie) together. Test fabric for colour-fastness.
made with plant derived and renewable ingredients
biodegradable, phosphate-free, dye-free, sulphate-free
safe for hand or machine washing (including HE)
Scentless
Scentless keeps your hand-washables (and sensitive skin) clean and fragrance-free. What does clean smell like? For sensitive noses and those who aren't fans of fragrance, Scentless keeps your hand-washables (and sensitive skin) completely fragrance-free. It's a fresh and ultra-clear way to take care of the laundry you love most. 375ml (12 oz.) (smells like nothing)
Celebration
Sweet, delicate and absolutely delicious, this perennial favourite smells like good, clean fun. Actually, it smells so good you'll want to wash everything you own with it – and the great part is, you can! The yummy fragrance and the gentle no-rinse formulation are perfect for all your favourites, from that va va voom bra to your comfiest yoga pants. One thing, though. While wearing clothes washed in Celebration, you may not be able to stop sniffing yourself. Really. Don't say we didn't warn you. 375ml (12oz.)
Lacey
Lacey is a material girl, soft and sweet. This modern scent combines spring blossoms with sweet bergamot creating a light yet alluring fragrance. 375ml (12oz.) (smells sweet, like candy) 
Yuzu
Clean with a peel. Pucker up and give your laundry some love with a kiss of tart citrus + crushed eucalyptus. 375ml (12oz) (smells like citrus)
Fig
Fresh-picked clean. This scent is ripened with sweet fig and lychee, crowned by dandelions. Delicious. Oh, and all the labels are designed by Joanna Figueroa, textile designer, author & owner of Fig Tree & Co, a quilt & sewing pattern company. 375ml (12 oz.) (smells sweet, like fruit)
Wild Mint
Spicy geranium with a hint of mint and citrus smells like freedom from the day-to-day. Take a wash on the wild side with the bright, clean scent of Wild Mint.