f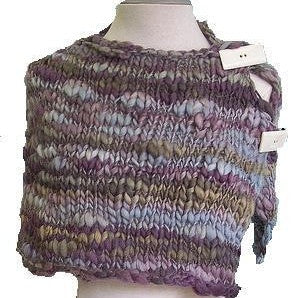 Quick Buttoned Capelet Pattern FREE
Fast, easy and satisfying, this pattern is a great quickie to make over a weekend or if you're jonesing for something warm to wrap around you for fall. It can be worn dressy or casual and makes a terrific little coverup for chilly afternoons at the office. The button capelet also makes a fantastic gift because it looks so impressive but takes so little time to make! 
Size (shown in size small) 
● S(M, L, XL, XXL) 
● Width at top (buttoned): 9(9.5, 10, 10.5, 11) inches/ 22(24,25,26,28)cm 
● Approximate Circumference at bottom (buttoned): 40(43, 48, 51, 54)inches/ 100(108,120,128,135)cm 
● Length: length is relative to the amount of yarn you have. Approximate lengths are 12.5(13.5, 14, 14.5, 14).5 inches or 31(34, 35, 36, 36)cm, but you can easily make it longer if you like. 
Materials
10mm/40" circular needles (plastic or metal are easiest, I Liked using Skacel Addi Turbo for this project, the slippiness was helpful)
140-420m super bulky yarn (like Brown Sheep Company Burly Spun) 
2 jumbo stitch markers (I prefer the Clover Jumbo Locking Stitch markers)
  2(2, 2, 3, 3) large buttons (approx 4cm/1.75" diameter or larger) 
Sewing needle and thread to match buttons
Yarn Substitutions
2 to 5 skeins Malabrigo Rasta
2 to 3 skeins Cascade Spuntaneous (used 12mm/US17 needles)
See projects on Ravelry.