f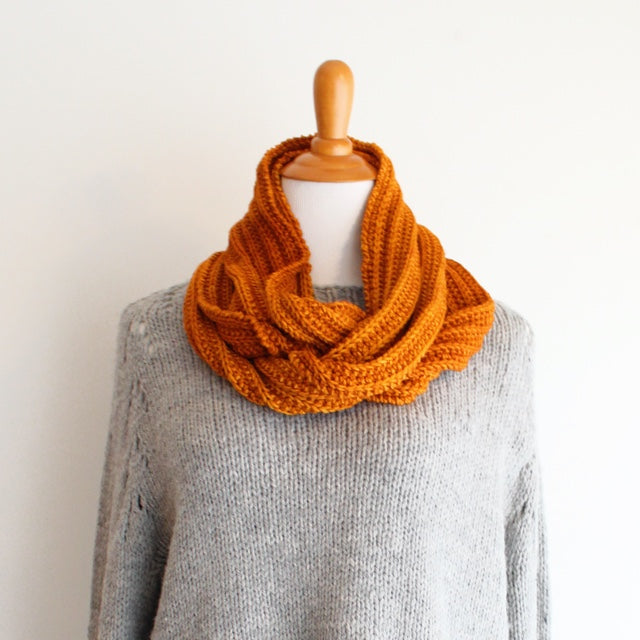 Barbara Cowl Project
Barbara
Please forgive me for falling behind, I'm still catching up on my blogging (and knitting, and other things) … why does December have to consume such a large part of January? Anyway, I wanted to show you another success story, the Barbara cowl.
It's a simple knit, and a free pattern, and makes for a nice splash of colour mid-way through winter. We used 2 skeins of Malabrigo Rios in colour 96 Sunset (I thought it would nice and sunny looking forward to spring, like Pantone colour Saffron), but any worsted weight yarn will do.
Mods
Barbara is knit lengthwise like a scarf and then seamed, so it isn't particularly technically advanced. You can seam it into a regular loop or a mobius loop, whatever tickles your fancy. If you wanted to turn it into a scarf I'd work about 1.5″ in K1P1 rib at each end to give it a nice finish.
Materials
Malabrigo Rios: 2 skeins (show in 96 Sunset)
5.5mm/US9 needles (straight or circular)
tapestry or darning needle
Other Yarns
Barbara would of course look great in other yarns … I can see a nice fluffy version made with Drops Air (3 skeins). Something classic in a heathered colour would be great made with Cascade 220 Superwash (2 skeins/5mm-US8 needles) – a great knit for anyone who likes things simple. Personally, I'm really into Fibre Co. Road to China Light right now, I can see it making a super sexy accessory I'd never want to take off (3 skeins/4mm-US6 needles) … oh god, please help me, I think I just fell down a rabbit hole ….