f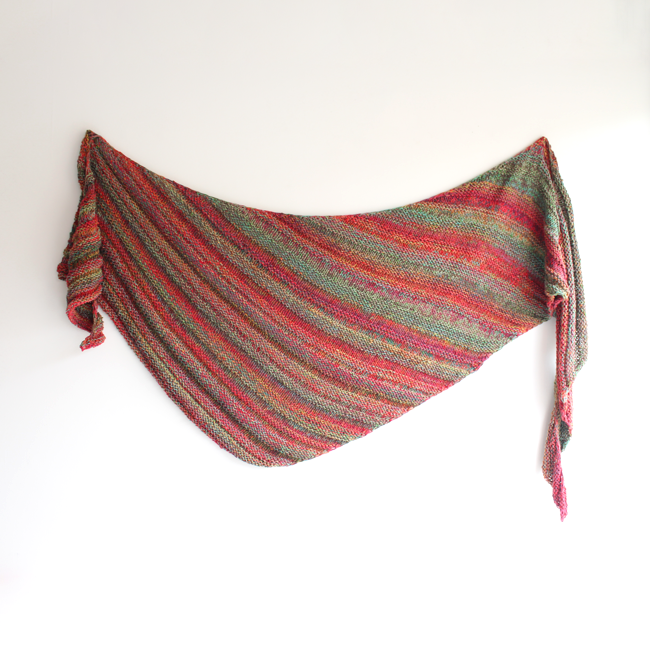 Beach Wrap in Summer Sesame PROJECT
We just finished a new iteration of our Beach Wrap, this time made with some COLOUR to brighten things up. I was playing around with combining two multi-coloured strands of yarn to see if I could take it to a greater depth, make it even more interesting, and of course knit the project up faster on larger needles. I held two strands of complementary colourways of Berroco Summer Sesame together, and just let them do their thing. You can also try holding two strands of the same colour but starting at different parts of the colourway.
The Beach Wrap has been a super popular project since its debut, and it makes a great canvas to paint on. It was created with accessibility in mind - I wanted it to be simple to knit, and incredibly wearable. The simple welted texture is random, completely reversible, and creates a classic, timeless look. The pattern is knitted on the bias, increasing in width as you go, so you can make it any size you like and you never have to worry about running out of yarn. We've written the pattern with a line-by-line chart, to help you keep track of your rows (a beneficial thing for everyone, but especially helpful for people with learning disabilities, brain fog, mommy brain, COVID brain, messy brain, etc). And the final bonus - it's a FAST knit on 6.5mm/US10 (think quick gift)!
Please see the notes below for a bit of strategy to help keep your colours consistent. When I started I was in a rush and I didn't pay attention to where the yarn was in the colourway ... when it was time to start the second balls of yarn my project evolved from a shawl into an exercise in letting go of expectations/the outcome/control and just surrendering to the flow. Can you see in the picture above where things kind of shift? I like to think of it as a shawl of multiple possibilities, different paths and choices. When things just don't want to go the way you wanted, the best thing you can do is let go and lean into the faith that life is working for your highest good (and maybe find the humility to accept that you may not know what that is). 
Notes
On this version we did three full pattern repeats, then worked 43 rows on the 4th repeat, then bound off. Our goal was to work until we ran out of yarn, which we did.
When you choose your yarn, try to choose skeins that start at or around the same point in the colourway.
When you start your project note whether you are taking the yarn from the inside or the outside of the skein, so you can do the same with the second ball.
If you want your dominant colour muted/toned down pair it with colour 5250 Sand
Size
98"/245cm long (from tip to tip)
23"/58cm deep (at longest point)
Materials
Notions