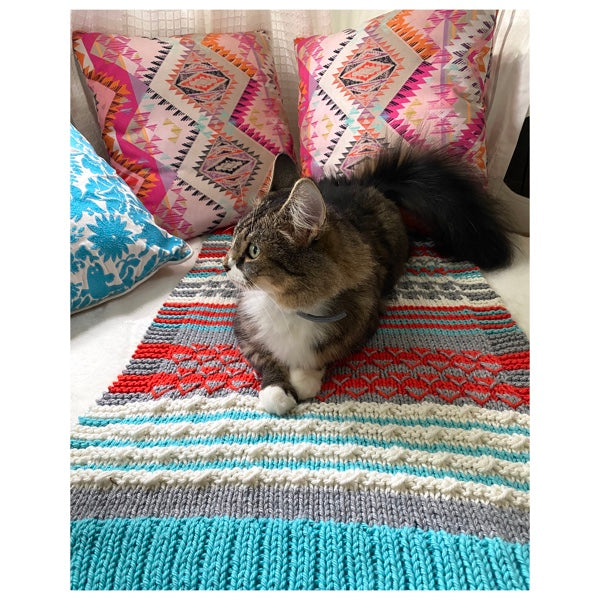 Berroco Casapinka Glamping Blanket 2 Kit PRE-ORDER
Details
This adorable blanket is a graphic combination of colours and textures. The yarn, Berroco Vintage Chunky, is the PERFECT blanket yarn - it's soft and cozy, it knits up quickly, and it's easy to wash - ideal for comfy snuggling for all ages and species!

SEE OUR BLOG POST WITH FAVOURITE COLOUR SAMPLES 
Sizes
Cat Blanket: 18" X 25"
Baby Blanket/Small Dog/Portly Cat: 24" X 33" (side-eye to Kit Kat)
Dog and Lap Blanket (or a larger baby blanket):  32" X 43"
Sofa Blanket (for humans): 42" X 54"
Kit Includes
Berroco Vintage Chunky: c

olour A.  1 (1, 2, 4) hanks, c

olour B.  1 (2, 2, 3) hanks, 

colour C. 1 (1, 2, 3) hanks, c

olour D. 1 (1, 3, 3) hanks.
Kit DOES NOT Include
6mm/US10 - 32" circular needles.
Notes
This yarn is machine washable. 
If you'd like to see the colours more closely you can visit us in-store, we carry the yarn all year.  

This kit is a Special Order, and it may take up to 2 weeks for us to receive it. 

The colour combinations listed are the ones on offer from the company, but if you would like to create your own combination we are happy to ask them and see if we can make that work. 

Pre-Order

These kits are pre-orders, we don't stock them in the store, we assemble them bespoke, just for you, to your specifications! We stock the yarn in-store year-round and we are constantly re-ordering it, so if we are out of stock of any colours we will let you know. 

Combining Colours
If you aren't sure how your colours balance, take a picture of them with your phone and change the colour filter to a back & white setting (like NOIR on iPhones). This is the colour combo in the picture of the blanket above with the cat:
The sample blanket is done in: A: 6125 Aquae, B: 6106 Smoke (grey), C: 6100 Snow Day (white), D: 6140 Orange. To help you choose a balanced colour palette, the sample blanket's colours are distributed like this:
Colour A is your second lightest colour, it requires

1 (1, 2, 4)

 

skeins
Colour B is your second darkest colour, it requires 

1 (2, 2, 3)

skeins
Colour C is your lightest colour, it requires

1 (1, 2, 3)

skeins
Colour D is your darkest colour, it requires

1 (1, 3, 3) 

hanks.