f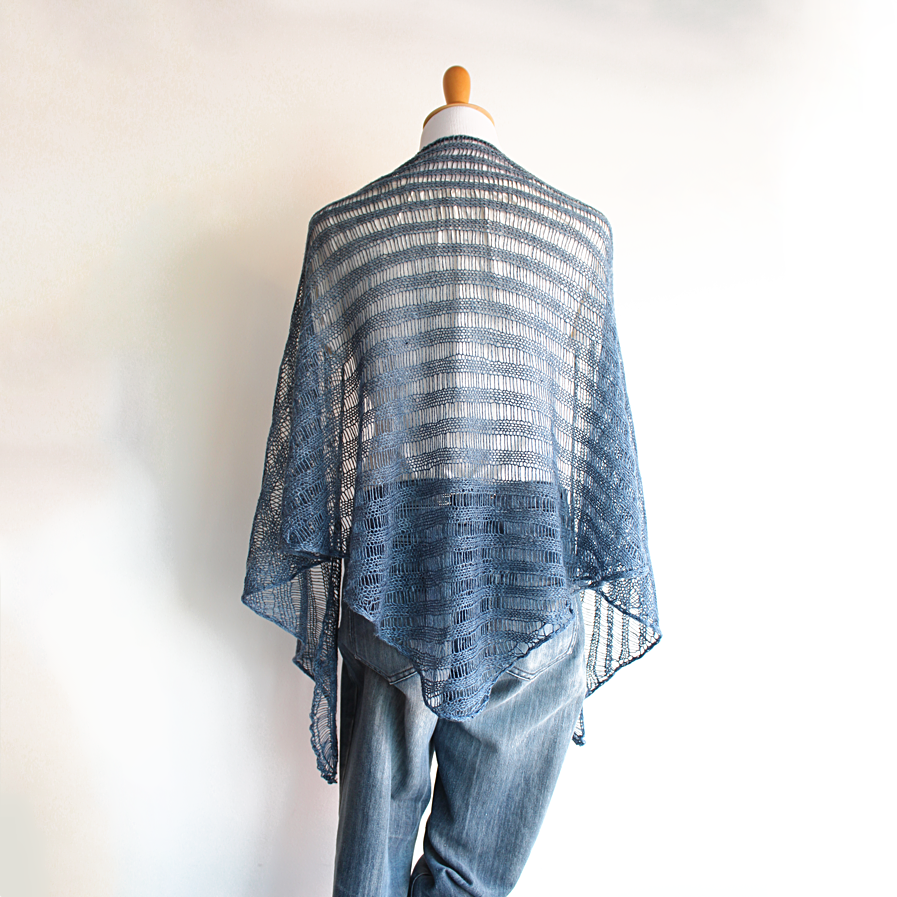 Clapo-Ktus Wrap Project
I just finished this Clapo-Ktus wrap and it came out beautifully! I was itching to work with some of the Handmaiden Flyss on our shelves, a Canadian hand-dyed blend of Silk and Linen, and I was looking for a one-skein project that wouldn't take too long and would show off the textile - I think totally NAILED IT.
Clapo-Ktus (terrible name, but the pattern is free) is actually a combination of two popular patterns, the Clapotis scarf/wrap, which involves dropped stitches, and the Baktus scarf, which is knit from side to side. The dropped stitches are gorgeous and make great use of the yarn's natural drape (linen and silk are both fibres that are ALL drape, and have zero body). The Baktus part of the design give it a triangular shape, and allows you to use exactly as much yarn as you have on hand (hence a one-skein project). The skill lever wasn't especially hard, I'd rank it around an advanced-beginner.
I wasn't initially sure the one skein would be enough, but as I dropped the stitches it expanded beautifully, and after blocking it was magnificent. If you are interested, I would definitely also recommend making a Clapotis with this yarn, it would be a stunner! I originally envisioned this project as a wrap for the spring and summer, and I think it will hold it's own in this department, but when it was finished and I tried it on I actually ADORED wearing it as a spring scarf. The fabric isn't heavy or dense, and the textile is soft but has just enough texture to make it interesting.
Just one caveat - I ended up with these weird open stitches on one side, where the dropped stitches were initially created (you can see them in the picture below with the hanger). I thought I followed the pattern, so I'm not sure what went wrong or how I ended up with this. With all the dropped stitches in the fabric I don't think it's a big deal or unsightly.
Materials