f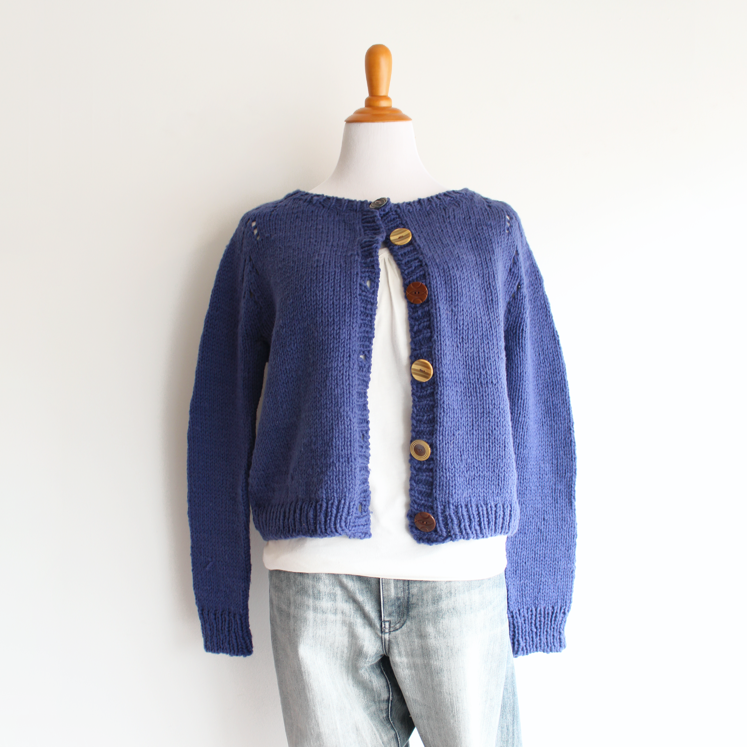 Felix Cardigan Project
Felix Cardigan
After we finished the Felix Pullover I wanted to try the cardigan version of the sweater for myself, as a store sweater (as opposed to my home sweaters, or commuting sweaters - those are completely different categories of sweater). I was kind of dawdling, so it took me a while to complete, but it's actually a very quick knit and I don't think others would have a hard time getting through it. I also learned a few news things along the way! I love learning new things!!!
Fit & Style
So the style is a bit oversized and is supposed to fit with positive ease, and I'd describe the style as demure. I made the smallest size and it's plenty roomy - after blocking it is 42" in circumference in the bust (buttoned). The neckline is designed wide, and if you do a sewn/tubular bind-off it will be even wider (I'll talk more the bind-off below) - which might be good if you have narrow shoulders like me. The fit feels cozy, comfy, and casual, and I don't feel like you can see much body underneath, partly because of the design and the yarn I used (Cascade Eco+ Merino). There isn't any shaping through the body, but if some A-line shaping suited you it would be very easy to include.
Things I like: 1. It makes my shoulders look bigger. 2. It looks good over a t-shirt, with skinny jeans . 3. It isn't too warm. 4. It's roomy for puffy days.
Things I don't like: 1. It's oversized so my shape gets lost (I always feel a bit lost in oversized garments).
The Yarn
After seeing clients make a few gorgeous Carbeths we made the Felix Pullover with Cascade Eco+ Merino, and since I wanted some new colours in my wardrobe this winter so I gave this pretty periwinkle blue/purple a go. Cascade Eco+ Merino is a soft, springy 100% South American merino wool, made in Bolivia. Its spongy, springy and has a ton of body and memory. I think it would hold texrure beautifully and make a dynamite cabled scarf or cowl.
The yarn was soft and easy to work with, and a nice quality at a good price. It wet blocked well, but it really looked fantastic after a good steaming. It's a neutral feeling yarn, and I think it's great for the price (by 'neutral' I mean it doesn't feel like it was made from sacred sheep and spun in a mill run by Disney princesses, employing a unionized workforce of well paid small animals and home accents with a background in musical theatre). If you want an "OMG, did vestal virgins knit this sweater?!" experience treat yourself to some Malabrigo Mecha or Diamond Luxury Baby Alpaca Sport, you won't regret it.
Yarn Alternatives
MALABRIGO MECHA: This hand dyed, incredibly soft singly ply merino wool would hands-down make the MOST Stunning cardigan EVER! 6(7, 7, 8, 9) skeins would make a cardigan you'll never want to take off. I'd opt for one of the semi-solid colourways, otherwise you'll lose the pretty lace detail in the shoulders.
DIAMOND LUXURY BABY ALPACA SPORT: For an extra soft and drapey version, try Diamond Luxury Baby Alpaca Sport: 6(7, 8, 9, 9) skeins. NOTE: alpaca is VERY stretchy and you can probably go down a size from what you would normally wear.
DROPS AIR: The pattern was originally written to be a looser knit on an aran weight yarn that blooms. If you want to try a lighter or airier version, try super soft Drops Air: 4(5, 6, 6, 7) balls. This would would make a sensational spring pullover which would look great over a tank top, or be a great sweater for warm climates and for people who run warm. This is also a super affordable option, running from $40 to $70 (depending on size).
BERROCO VINTAGE CHUNKY: For a machine washable sweater or something for someone who is extra itchy or allergic, I'd go with Berroco Vintage Chunky: 5(6, 7, 7, 8) skeins. Vintage Chunky is also a pocket-book friendly choice, running from $50 to $80 for the project (depending on size).
QUNICE & CO KESTREL: Do you winter down south or live in a warm climate? I don't, but if I did I'd go for an aran/chunky weight, machine washable linen like Quince & Co Kestrel: 9(10, 12, 13, 14) skeins. NOTE: Linen is VERY stretchy and you can probably go down one or two sizes from what you would normally wear.
Size
Felix is supposed to fit a little bit oversized and casual. I made the first size, which is a small but fits oversized and loose.
S(M, L, XL, XL2)
Circumference at bust at underarm: 39 (43 ½, 48, 52 ½, 57)"
Length from right front cast on to right neck edge: 22 (24, 25, 27, 28)"
Materials
Cascade Eco+ Merino: 2(2, 2, 3, 3) skeins, colour 24
5mm/US8-16" and 24" circular needles
6mm/US10-16" and 24" circular needles
5mm/US double pointed needles
6mm/US10 double pointed needles
Stitch markers
Tapestry needle
My Ravelry Notes (for modifications for button-bands and neck ribbing)
Learnings
At the very start of this wall-o-text I mentioned that I learned things, so here are my learnings!
1. Sewn/Tubular Bind Off is STRETCHY
The pattern suggests using a tubular bind-off, but you can use any kind of bind off you like. I figured I would give the Tubular-Bind off a go to see how it worked out, what it's benefits and deficits were. Just to make sure we are on the same page, I used THIS TUTORIAL for a Long Tail Tubular Bind-Off.
At first the sewn bind-off looked like it would pull-in a lot and I'd have problems maintaining the shape of the garment. I think if you did the bind-off too tight this could end up being a problem, but at a normal or loose tension it is definitely not a concern. I did not really understand how stretchy this bind off can be until I wet blocked the sweater, at which point it really went to town! The bind-off edge was most sensitive on the front button bands and the neck-line, the edge on the cuffs was the most resilient. To get them back into shape I gave them a good steam, but the neck-line might need reinforcing down the line.
Benefits of a Tubular Bind-Off: 1. It makes a nice edge. 2. It's very stretchy.
Deficits of a Tubular Bind-Off: 1. It takes time and patience, since it's basically grafting/Kitchener stitch. 2. It's very stretchy.
Conclusions: Pick your poison. I would probably do it again for the sleeve cuffs and the bottom of the sweater, possibly for the button bands, but definitely not for the neck.
2. Steam is Good!
I bought a little hand-held garment steamer on Amazon and I really like it! The stitches all fell into place beautifully, the places where the fabric had stretched bounced back, and the fibre looks great. I am now pro-steamer garment blocking. (BTW, did you know that Amazon has a discount section called Warehouse Deals? I think it's stuff people have returned, so mostly opened boxes and superficially blemished products.)
3. The Perfect Sweater
I've been mulling around ideas about my understanding of perfectionism, which seems to be something that comes into play when people are learning. I don't know if I've nailed anything down yet, but I definitely see that I've been carrying around some perfectionist ideals, and they really hold me back and keep me from feeling satisfied. When I make a sweater for myself I usually have a subconscious fantasy desire, I want it to be perfect, which for me means it's my favourite thing EVER. I made this sweater to explore a bit (and have a new sweater), and part of that exploration was how I feel about pursuing things that aren't absolutely phantasmagorical. At no point was this sweater a "This is going to be my favourite sweater EVER" type of project, and that's really forced me to put myself outside of the safe and familiar. Don't get me wrong, its a good sweater, and a nice sweater, I'm wearing it right now and you'll see me wearing it around the store on a regular basis, but it isn't my fantasy sweater. But who knows, maybe I'll come to love wearing it around the store, and it'll be my favourite store sweater? Maybe I'll make another? Or maybe it will help me to try something new, and then another thing that's new, and then a whole bunch of new things until "favourite" takes on a whole new meaning to me? Maybe this wasn't so much a "Learning" as a "Growing"?