f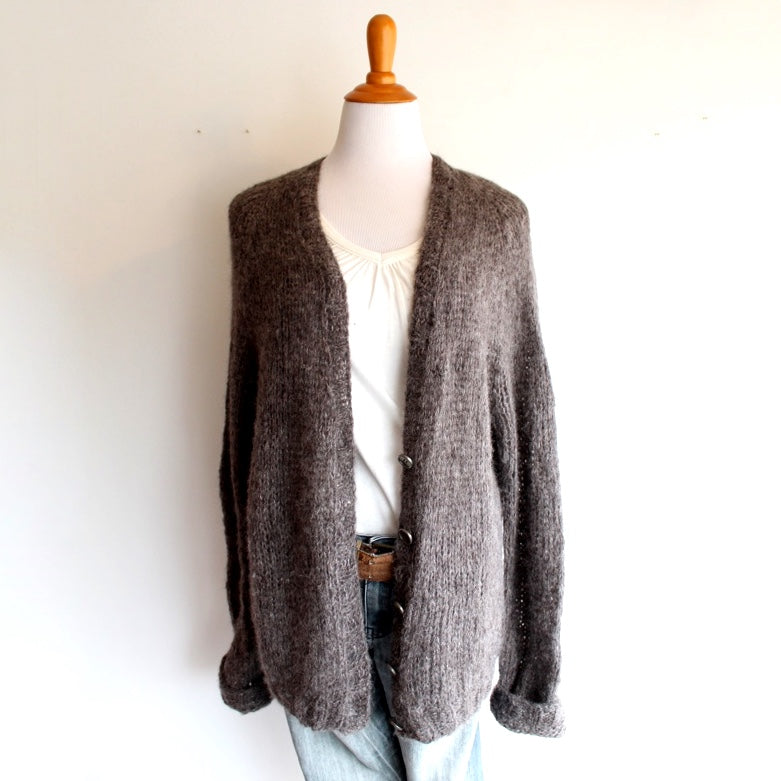 Paprika Cardigan Project
I love the soft, fuzzy, retro quality of this sweater, Paprika.
I love the look of mohair, but I don't love the itchy feel, so I've been doing some experimenting with Drops Brushed Alpaca and Silk. It looks like mohair, but it feels like happy. Plus, it's light as air! I made Paprika with two strands held together, on 8mm/US11 needles. It was a fast and easy knit, worked in one piece from the bottom-up, so no seaming - nothing fussier than picking up stitches.
The style is oversized and roomy. I made a medium but I could have easily made a small. It was definitely an affordable knit, coming in under $50 (I used 8 skeins of Drops Brushed Alpaca and Silk).  
When you're ready to make yours you should definitely take a look at our pattern notes on Ravelry, I found a few quirks with the pattern and noted my modifications & etc. I also feel that the sleeves are way too long and I'd make them several inches shorter. Other than that, I'm pretty pleased with the results!
Size
S(M, L, XL)
Finished Bust Circumference: 45(48, 41, 54.5) inches or 112(120, 128, 136) cm
Materials
Drops Brushed Alpaca and Silk: 8(9, 9, 10) balls. (holding 2 strands together, shown in colour 3 gray)
6mm/US10 -36" circular needles
6mm/US10 double pointed needles
8mm/US11 - 29" (or longer) circular needles
8mm/US11 double pointed needles (or 16" circular)