f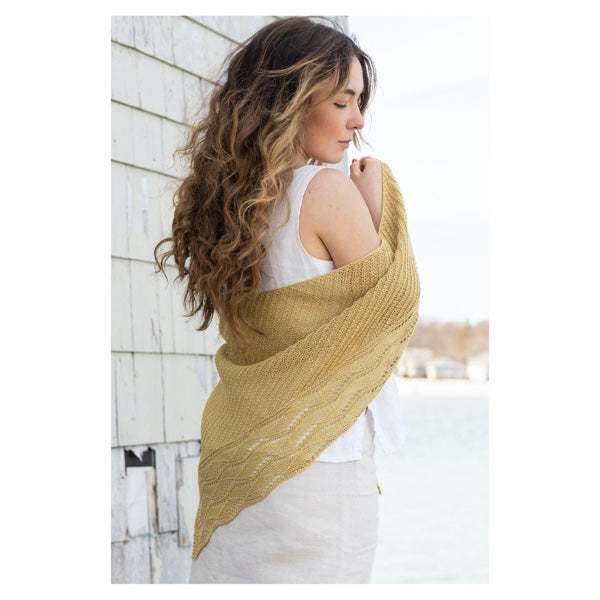 Quince & Co Ashtona Shawl Project
Ashtona
Skill Level: Intermediate (see below for a list with links) – I wouldn't make this as your first lace project, there might be a few too many hoops to jump through, but it should be fine for a second.
Size: 80″ (203 cm) wingspan and 22″ (56 cm) deep at centre
Materials
The Yarn
I usually lead with details about the pattern, but when you're using Quince & Co Sparrow the main character in the story is always the yarn. Sparrow is one of my absolute favourite summer yarns, I never ever get tired of wearing the garments I make with it and I'm always planning my next project with it in the back of my head. It's the best linen I've ever come across, once it is washed it is deliciously soft, cool, light and comfortable. It's not that I don't work with other yarns, it's just that this is just the one I always go back to. I have two sweaters made with it and I wear them as soon as the weather gets warm – they're like my summer uniform. I need to make a third this year because I need it in another colour (which is really the only thing that's been holding me up).
Sparrow is organic, made in Italy, and is machine washable. I generally machine wash mine in a delicate bag (to keep it from abrading) and machine dry it on low in the bag. (The label says to lay it flat to dry, but I like it better if it's been in the dryer at least a little).
Yarn Substitutions
If you're not a linen person and you're never going to be a linen person, I get it. but you want to make a shawl, my favourite sub would be Fibre Co Meadow, cause it's gorgeous and you're going to LURV making and wearing your project. BC Garn Bio Balance would make a slightly more casual look, and the wrap would be a smidge warmer (it'll bring the price-point down too – $52). For a more rustic look and a really affordable project, try Berroco Remix Light, you only need two skeins (only $32).
The Pattern
The pattern, Ashtona, is an asymmetrical, sideways knit shawl. It combines combines pretty ribbon lace with an uneven ribbing motif – think waves lapping against a shoreline grooved with tiny rivulets and ripples in the sand. The piece is worked on the bias from the right tip to the wide left edge. Both charts and line-by-line instructions included.
By the way, Quince & Co has a gorgeous website. If you're in the mood to stroll online and look at beautiful photos of wonderful designs, I highly recommend it.
Skills