f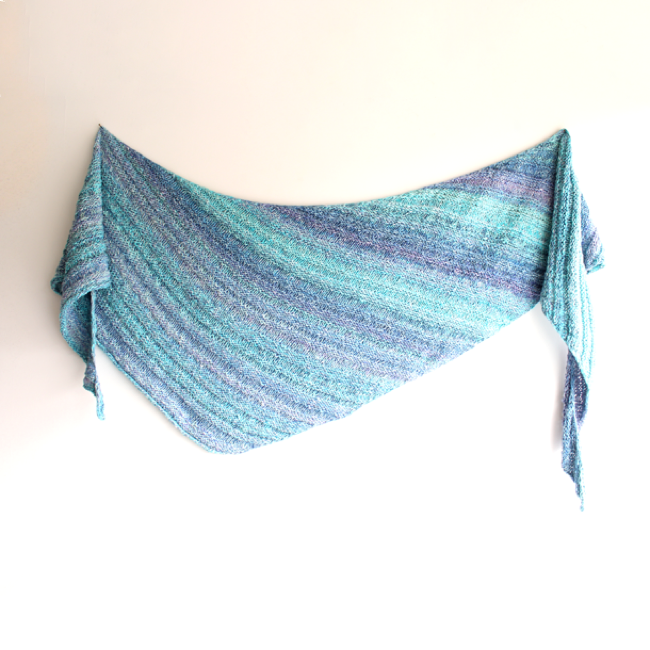 Beach Wrap in Vivo PROJECT
Erica just finished a new iteration of our Beach Wrap, it's always a great project to use for experimenting with yarns and colours. Last year we tried combining two colours of the same yarn and it turned out really beautifully (you can see that project HERE), so we tired it again and it worked … again! I held two strands of complementary colourways of Berroco Vivo together, and just let them do their thing. You can also try holding two strands of the same colour but starting at different parts of the colourway.
The Project
The Beach Wrap has been a super popular project since its debut, and it makes a great canvas to paint on. It was created with accessibility in mind – I wanted it to be simple to knit, and incredibly wearable. The simple welted texture is random, completely reversible, and creates a classic, timeless look. The pattern is knitted on the bias, increasing in width as you go, so you can make it any size you like and you never have to worry about running out of yarn. To keep the texture looking random the pattern repeat is a log one, so I wrote the pattern with a line-by-line chart to help you keep track of your rows (a beneficial thing for everyone, but especially helpful for people with learning disabilities, brain fog, mommy brain, long COVID brain, messy brain, hectic brain, etc). And the final bonus – it's a relatively fast knit on 5.5mm/US10 needles (think quick gift)!
Notes
On this version we did five full pattern repeats. Our goal was to work until we ran out of yarn, which we did.
When you choose your yarn, try to choose skeins that start at or around the same point in the colourway – this can help keep your colour distribution more consistent throughout the shawl. This isn't crucial, just helpful.
When you start your project note whether you are taking the yarn from the inside or the outside of the skein, so you can do the same with the second ball.
Size
100"/250cm long (from tip to tip)
22"/55cm deep (at longest point)
Materials
Pairing blue with a blue is an easy task, it's like the Canadian Tuxedo of colour combinations. To take some of the uncertainty out of deciding which other colourways compliment each other I lined them up in the natural light and gave them a very strong eye-balling …. the colour combinations below are all Haley approved.
Berroco Vivo: 4 skeins (2 in each of 2 colours: Blue/Purple shown in 3533 & 3541, Green/Pink shown in 3525 & 3547)
5.5mm/US9-29" circular needles (if you are a tighter knitter go up to a 6mm/US10 needle or larger if you are very tight)
Notions