f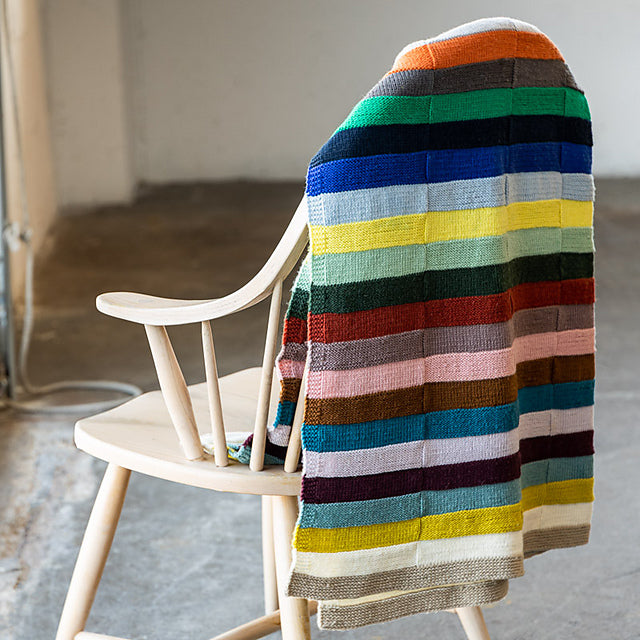 Blanket of Joy PROJECT
My client Leesa brought me The Blanket of Joy, and as soon as I saw it I knew it was marvellous and needed to be shared! The world is so full of uncertainty right now, it's more important than ever to choose carefully how we focus our energy. Like attracts like and like begets like, so I think something bright, happy, and full of joy is a good place to put our attention.

The Blanket of Joy is a simple knit, which is also important right now … Keep It Simple, am I right? Simple bands of colour are knit in offset segments of stocking and reverse stocking stitch to create an easy, graphic combination of colour and texture. Sometimes the simplest solutions are the most brilliant! The pattern looks like it's suitable for novices and experienced knitters alike. Need some help with weaving in the ends? Check our our Skills Page!
Yarn
The project is a "lets see if we can find a way to use every colour in the crayon box" type of experiment.
I think BERROCO VINTAGE fits the bill perfectly – it's soft, comfortable, affordable, machine washable, and comes in a slew of colours. You'll need 1 skein in each of 22 colours, and I suggest using 4.5mm/US7 needles. If you're using Vintage your tension will be slightly different (it will knit a bit faster) and you'll have about 25% more yardage than in the pattern, so you should be able to get away with making your blanket a smidge wider.
Berroco Vintage Colour Substitutions:
5101 = Natural (B)
5135 = Wintergreen (R)
5181 = Barn Red (K)
5105 = Mousse (J)
5140 = Clementine (T)
5182 = Merlot (E)
5109 = Shale (S)
5143 = Navy (Q)
5197 = Malla (G)
5110 = Tutu (I)
5145 = Truffle (V)
51131 = Citron (N)
5112 = Leek (M)
5160 = Lapis (P)
51132 = Pear (C)
5113 = Skyline (O)
5174 = Cork (A)
51196 = Sea Glass (D)
5114 = Whisper (F)
5177 = Peat (H)
5116 = Pebble (U)
5179 = Cedar (L)
Size
Approx. 50″ x 76″ (125cm x 190cm) made with Berroco Vintage  (Berroco Vintage Chunky) on 4.5mm/US7 (6mm/US10) needles
Materials
Berroco Vintage: Colours in Pattern Order
Berroco Vintage Chunky : Colours in Pattern Order
Colour & Change
In the book Joyful, Ingrid Fetel Lee talks about the revitalization of the run-down, crime-ridden city of Tirana, Albania … which was initiated with the very easy and affordable approach of painting buildings bright colours. I'll leave the details for you to read up on (the book was really good), but if painting a run-down building bright orange can initiate the transformation of a city, maybe it's not too far a stretch to posit that a joyfully coloured blanket can initiate positive change in a life?