f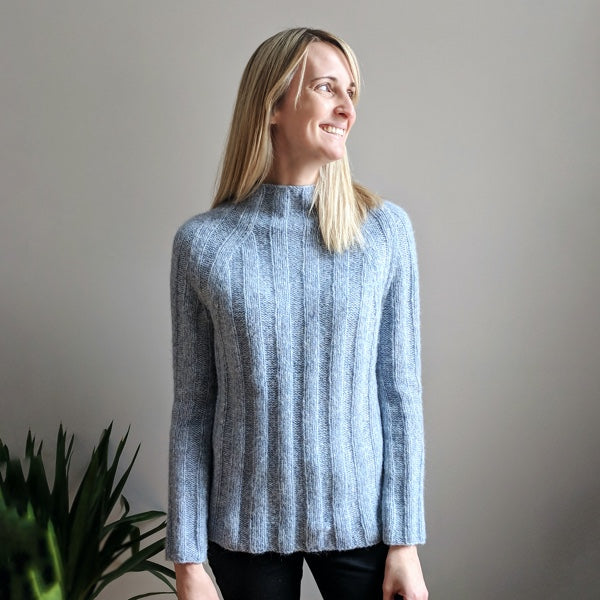 Four Score Pullover Project
Four Score is a great sweater project for newbies or just people whose skill threshold isn't advanced, but they want to try and do something more.
The sweater is worked flat in four pieces, on two straight needles (or circular if you prefer) and sewn up later using mattress stitch. The back and front are the same. A generous 4×4 rib pattern makes this a stretchy, flattering sweater with a bit of cling. It is designed to be worn with 3-6" of ease.
The yarn, Drops Air, is also super accessible. It's super soft, light as air (hence the name), fluffy (which can be both cozy *and* forgiving), and affordable. I think this project is one you'll love making as well as snuggling into. It's a good thing many people are working from home, because when people see your new sweater they are going to ask you to make them one!
Size
Finished Bust: 34(37.5, 41, 45, 49, 52.75) inches or 85(94, 102.5, 112.5, 122.5, 132)cm

Sweater is designed to be worn with 3-6" of positive ease (extra space between the sweater and your body)
Materials
Drops Air: 6(6, 7, 8, 9, 10) skeins ... sample knit in Drops Air in colourway Fog.
4.5mm/US7 needles (13″ straight or 29″or longer circular)
Stitch markers
Tapestry needle
Skills & Techniques
The skills and techniques used in this project are not complicated! The most advanced skill is seaming. Don't let seaming scare you, it isn't complicated, you just have to do it to practice it. The yarn that this project is made with is a great canvas to learn on – you don't have to be perfect, the fuzzy aura will obscure so many sins.
cast on
knit
purl
ssk (slip, slip, knit – an easy type of decrease)
knit 2 together (a very easy type of decrease)
purl 2 together (a very easy type of decrease)
bind off in rib (knit the knit stitches, purl the purl stitches)
seaming with mattress stitch
Online Support
If you're looking for help on the interweb I always recommend the following two resources to new knitters:
Knittinghelp.com: All the basics with great videos and photos!
Very Pink Knits: I usually just google whatever I'm searching for (ex. "knit 2 together") and "very pink knits" and the right video pops up!