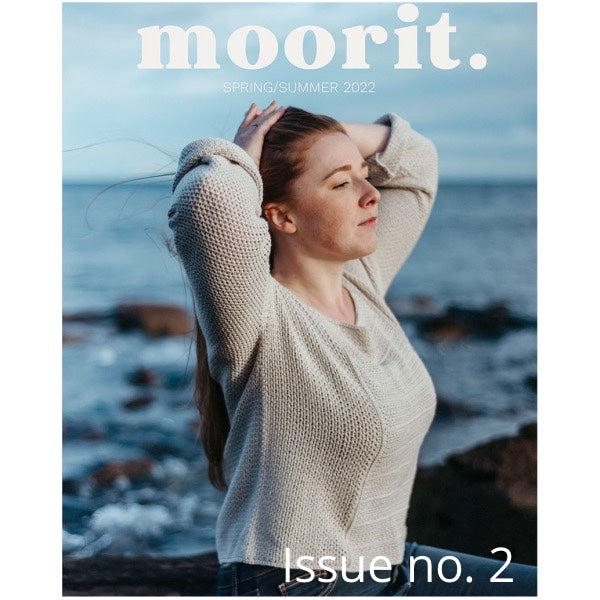 Moorit Mag
PRE-ORDER Issue 2 – Spring/Summer 2022
Issue 2 is Moorit's first take on the warmer seasons.
The designers looked to the sea for our Issue 2 theme, Clear Waters, to create pieces that feel like a breath of fresh coastal air.
Discover 12 patterns inspired by the movement of the ocean, the colours of the seaside, and magical moments on the beach. And with 8 tops to choose from, you'll be sure to find the perfect spring garment to make.
Plus, a tasty recipe from Helda Penagary and a feature on The Birlinn Yarn Company by Meg Rodgers.
With designs by… Aklori Designs, Claudia Dingle, Emilia Johansson, Fay Dashper-Hughes, Ines Rodgers, Jeanette Bøgelund Bentzen, Linda Skuja, Michelle Boucher, Michelle White, Stephan C. Burse Jr., and Yessabett Bueno Fernández.
Using yarn from… Alley Cat Yarns, BC Garn, BettaKnit, The Border Mill, The Fibre Co., Fyberspates, John Arbon, Knitting for Olive, Marianated Yarns, Nuturing Fibres, RiverKnits, Tanana, and Weka Yarn
And other contributions from… Helda Penagary and Meg Rodgers
DOWNLOAD CODE INCLUDED WITH PURCHASE (printed in the book)
_______________________________________________________________________
Issue 1 Autumn/Winter 2021 
The very first issue of Moorit is a celebration of our love for crochet… for its innate beauty, for its versatility, and for its suitability to all types of garments and accessories.
The designs showcase a wide, but in no way exhaustive, range of techniques, including Tunisian, tapestry and intarsia colourwork, front/back posts stitches, and amigurumi.
Issue 1 features three sweaters, a vest, a skirt, a pair of socks, 2 shawls, a hat, a matching cowl and mitten set, and an amigurumi design.
Plus, there's an embroidered handkerchief project to make and an article about the impact of industrialization on garment fitting.
DOWNLOAD CODE INCLUDED WITH PURCHASE (printed in the book)