f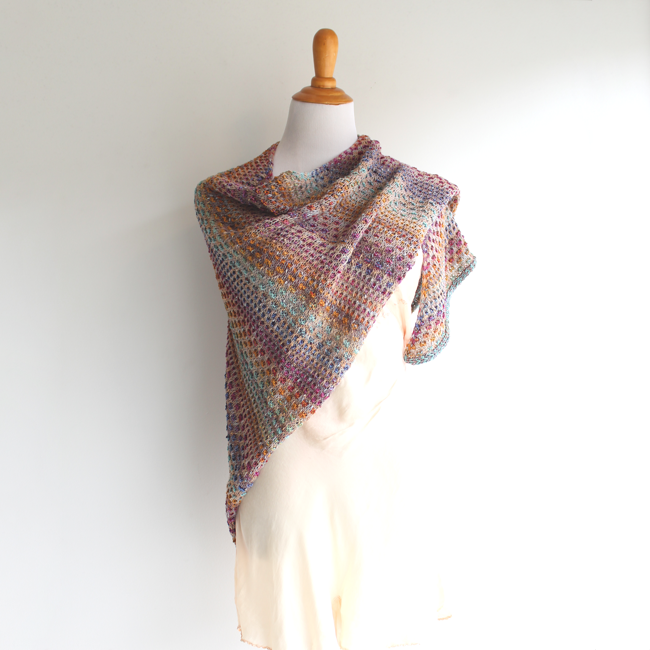 Nightshift in Summer Sesame PROJECT
Nightshift
We finished this wrap last month, but then we sold through the yarn and I had to wait for our re-stock before blabbing about it to you (we now have plenty on hand now).
I decided to give the Nightshift wrap by Andrea Mowry a warmer weather makeover and a little bit of streamlining! The pattern is pretty straightforward and well written – the colourwork is done with slipped stitches, a simple technique anyone can pick-up, and the edges are worked as you go, so there is minimal finishing. We used Berroco Summer Sesame, a soft, light-weight, machine washable, and easy to work with cotton blend yarn with an ombre colourway and a bit of texture that gives it a bit of dimension.
The original pattern uses 6 different colourways of a gradient yarn, so I simplified things a bit by using only 2 colours Berroco Summer Sesame, and leveraging its natural ombre colour gradation. The substitution served a few functions:
The colours took care of themselves, we didn't need to pay attention to colour changes: the main colour (background) is 5250

 

Sand, the contrast (bumps & blips) is 5252

 

Kaleidoscope.
It made following the pattern simpler. We started with the set-up section, then just repeated section 1 nine times.
We didn't need to use 6 different colours of yarn, which cut the cost of the project in half and brought it into a comfortable & affordable range.
You don't have to worry about choosing the wrong colours. Using 5250

 

Sand

 

as the background, you can choose any of the other colours of

 

Berroco Summer Sesame

 

and they'll look great together. If you want a darker background I think either 5242

 

Ocean

 

or 5238

 

Orchid

 

would look great as the main colour with 5250

 

Sand

 

as the contrast colour (the inky blue of

 

Ocean

 

sets my heart aflutter … dark blue can be such an effective non-neutral).
The aesthetic is very wearable. You can gift this and anyone can wear it. The yarn is also suitable for vegans and anyone who has allergies to animal products.
There are fewer ends to weave in!
Size/Dimensions
55″/140cm wide (tip to tip, measured across top)
31″/79cm deep
Materials
Berroco Summer Sesame: 2 skeins 5250

 

Sand, 1 skein 5252

 

Kaleidoscope. If you want to make your wrap larger I recommend getting an extra ball of each colour (ie. MC: 3 balls, CC: 2 balls).
Potential Colour Combinations
Main Colour: 5250

 

Sand, Contrast Colour: any of the other colours!
Main Colour: 5242

 

Ocean, Contrast Colour: 5250

 

Sand
Main Colour: 5238

 

Orchid, Contrast Colour: 5250

 

Sand
Other Project Ideas
You can use Berroco Summer Sesame to make some of the other 'Shift' projects by Andrea Mowry.
It would make a really pretty spring/summer

 

Shifty

 

pullover, but you'll want to go up to a 4.5mm/US7 needle and down a size or two in the pattern.
You can also use to to make

 

The Shift

 

cowl, you'll again want to go up to a 4.5mm/US7 needle, and you'll probably only need 1 skein in each colour.
Inclinations Shawl: use a 4.5mm/US7 needle and 3 to 4 balls of yarn.