f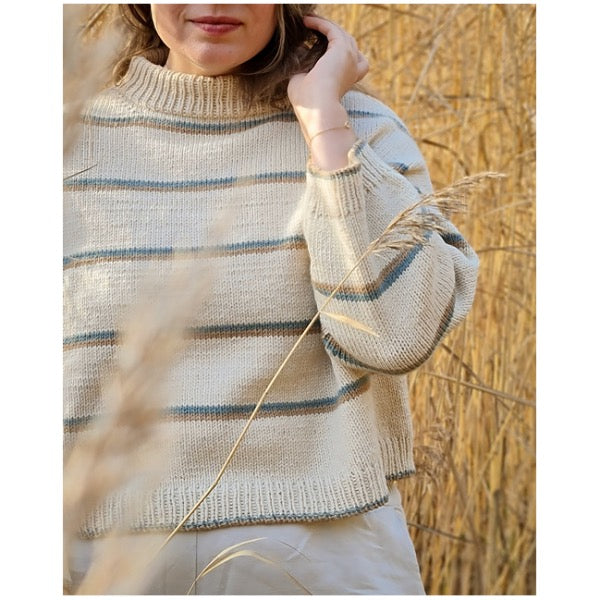 Hanko Pullover PROJECT
Hanko
Hanko has a boxy and relaxed fit that is effortless to wear and style in many different ways. It is my take on the classic Breton stripe style, but with a few little twists such as the two-colour stripes, dropped shoulder line and wide sleeves. Did you also notice the two-colour tubular bind off at the hem and the cuffs?
Hanko is knitted seamlessly top-down. The neckline is folded double, and the top of the back is shaped with German short rows to improve the fit around the neck. The shoulders are sloped and worked by increasing stitches along the shoulder line. After finishing the increases the front and back are separated and knitted separately to create the sleeve openings. After that, the pieces are joined again in the round and worked seamlessly down to the hem. Lastly, stitches are picked up around the sleeve openings and worked in the round. You can easily try the Hanko pullover on as you knit it and adjust the measurements to your own body measurements.
Hanko got its name after the small seaside town in Finland. The town of Hanko is a popular summer destination with beautiful beaches, marinas and old wooden villas dating back to the 19th century.
Size
This garment is supposed to be an oversized fit and features a positive ease of 25 cm/10 inches.
1 (2, 3, 4, 5, 6, 7, 8, 9)
Finished bust circumference: 100 (111, 120, 131, 140, 151, 160, 171, 180) cm / 39.25 (43.75, 47.25, 51.5, 55, 59, 63, 67.25, 70.75) inches
Length from hem to underarm (adjustable): 24 cm / 9.5 inches
Materials
Sandnes Garn Double Sunday: Main Colour: 6 (7, 8, 8, 9, 10, 11, 12, 13) skeins, Contast Colour 1: 1 (1, 1, 1, 1, 1, 2, 2, 2), Contrast Colour 2:  1 (1, 1, 1, 2, 2, 2, 2, 2) skeins.
3mm/US2.5 & 3.5mm/US4 DPNs
3mm/US2.5 – 16″ circular needles
3mm/US2.5 & 3.5mm/US4 – 32″ (40″) circular needles