f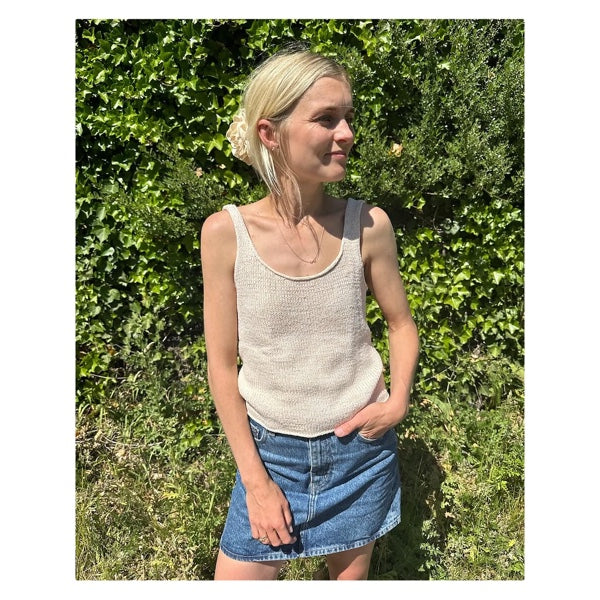 Petite Knit June Tank Project
The June Top is worked from the bottom up. The body is worked in the round in stockinette stitch, then the work is divided into front and back, and each section is finished separately by working back and forth in stockinette stitch. The pattern also contains instructions for working the top from the middle by using a provisional cast on, so the length of the top can be adjusted at the end. The June Top is designed to have a deeper neckline on the back – but only so deep that it still covers the bra. A small i-cord edge is worked along all edges.
Size
The sizes XS (S) M (L) XL (2XL) 3XL are designed to fit a bust circumference of approx. 80-85 (85-90) 90-95 (95-100) 100-110 (110-120) 120-130 cm [31½-33½ (33½-35½) 35½-37½ (37½-39½) 39½-43¼ (43¼-47¼) 47¼-51¼ inches], which means that the June Top is designed to have approx. 5 cm [2 inches] of negative ease.
Before beginning your project, measure yourself to determine which size to knit. For example, if you measure 89 cm [35 inches] around your bust (or around the widest part of your upper body) you should knit a size S. A size S top has a bust circumference of 84 cm [33 inches] which in the given example would give you 5 cm [2 inches] of negative ease.
Sizes: XS (S) M (L) XL (2XL) 3XL
Bust circumference: 80 (84) 90 (94) 102 (114) 124 cm [31½ (33) 35½ (37) 40¼ (45) 48¾ inches]
Total length: 50 (52) 54 (56) 58 (59) 61 cm [19¾ (20½) 21¼ (22) 22¾ (23¼) 24 inches]
The model in the photos is wearing a size XS and has a bust circumference of 80 cm [31½] and is 164 cm [approx. 5 feet 4 inches] tall. The top in the photo has 0 cm [0 inches] of negative ease.
Yarn Options
For a simple, solid coloured, single strand, no-fuss yarn option we suggest going for Berroco Modern Cotton. For a multi-coloured yarn that that shifts colour by itself try Berroco Summer Sesame (you only need to knit with 1 strand of this yarn). If you want to experiment with colours and shifting and holding two strands of yarn together, try Schoppel Zauberball Cotton (either in two different colourways or try two from the same colourway but knit from different parts of the ball/colourway …. this is my kind of thing, unpredictable colour combinations coming to life).
Other Materials
Gauge
20 sts x 32 rows = 10 x 10 cm [4 x 4 inches] in stockinette stitch on 4 mm [US6] needles