f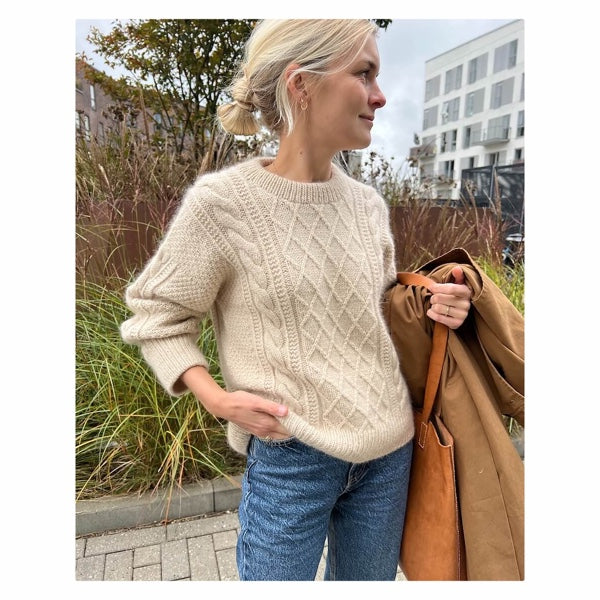 Petite Knit Moby Pullover PROJECT
The Moby Sweater is a gorgeous cable knit with two yarns (Sandnes Garn Double Sunday & Drops Kid Silk) that are held together to make a light, soft, cozy, and slightly fuzzy finished piece. The instructions are clear and well-written. Knit in the round, from the top-down, you can customize your Moby to any length, and try it on as you go.
Construction
The Moby Sweater is worked from the top down in a texture and cable pattern. First the back yoke is worked and shaped using short rows to form the slope of the shoulders. After this, stitches are picked up and knitted for each shoulder, which are then joined to form the front yoke. The front and back yoke are joined to form the body, which is worked straight down in the round. The sleeves are worked in the round on double-pointed needles or on a circular needle using the Magic Loop technique. Finally, stitches are picked up at the neckline to work a ribbed edge, which is then folded over towards the inside to form a double neckband, which is closed by knitting the stitches together with the pick-up edge.
Knit a swatch to determine which needle size you need to achieve the correct gauge – note that this can vary from yarn to yarn. Take care to wash the swatch before measuring, as the texture pattern can grow with wash.
Size
The Moby Sweater is designed to have approx. 15-20 cm [6-8 inches] of positive ease, meaning it is designed to be approx. 15-20 cm [6-8 inches] larger in circumference than your bust measurement. The sizes XS (S) M (L) XL (2XL) 3XL (4XL) 5XL are designed to fit a bust circumference of 80-85 (85-90) 90-95 (95-100) 100-110 (110-120) 120-130 (130-140) 140-150 cm [30½-33½ (33½-35½) 35½-37½ (37½-39½) 39½-43¼ (43¼-47¼) 47¼-51¼ (51¼-55) 55-59 inches].
The measurements for the finished garment are given on the first page of the pattern. Before beginning your project, measure yourself to determine which size will fit you the best. For example, if you measure 90 cm [35½ inches] around your bust (or around the widest part on your upper body) you should knit a size S. A size S sweater has a bust circumference of 106 cm [41¾ inches] which in the given example would give you 16 cm [6¼ inches] of positive ease.
Sizes: XS (S) M (L) XL (2XL) 3XL (4XL) 5XL

Bust circumference: 102 (106) 110 (118) 126 (134) 146 (154) 166 cm [40¼ (41¾) 43¼ (46½) 49½ (52¾) 57½ (60¾) 65¼ inches]

Length: 57 (58) 60 (62) 63 (65) 66 (67) 68 cm [22½ (22¾) 23½ (24½) 24¾ (25½) 26 (26½) 26¾ inches] measured mid back
Materials