f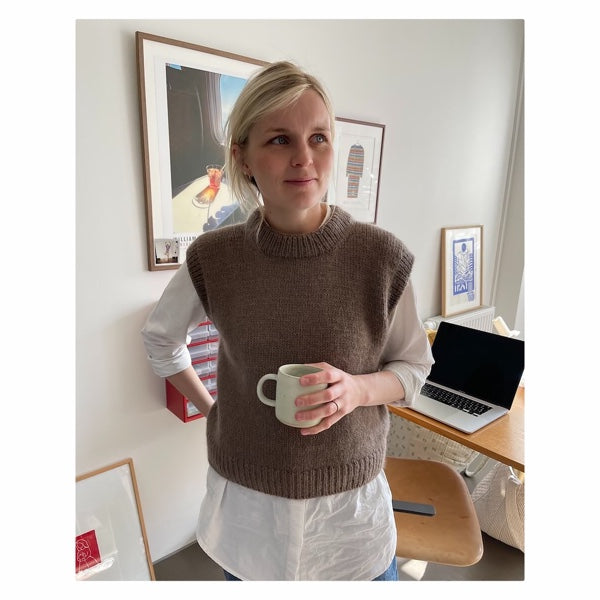 Petite Knit Novice Slipover PROJECT
This cute little slipover vest is a great project for less experienced knitters. It combines two yarns (Sandnes Garn Double Sunday & Drops Kid Silk) that are held together to make a light, soft, cozy, and slightly fuzzy finished piece. The instructions are clear and well-written. Knit in the round, from the top-down, you can customize your slipover to any length, and try it on as you go.
Size
The Novice Slipover is designed to have approx. 17 cm [6¾ inches] of positive ease, meaning it is designed to be 17 cm [6¾ inches] larger in circumference than your bust measurement. The sizes XS (S) M (L) XL (2XL) 3XL (4XL) 5XL are designed to fit a bust circumference of 80-85 (85-90) 90-95 (95-100) 100-110 (110-120) 120-130 (130-140) 140-150 cm [31½-33½ (33½-35½) 35½-37½ (37½-39½) 39½-43¼ (43¼-47¼) 47¼-51¼ (51¼-55) 55-59 inches].
Before beginning your project, measure yourself to determine which size will fit you best. For example, if you measure 90 cm [35½ inches] around your bust (or around the widest part of your upper body) you should knit a size S. A size S sweater has a bust circumference of 107 cm [42¼ inches], which in the given example would give you 17 cm [6¾ inches] of positive ease.
Sizes: XS (S) M (L) XL (2XL) 3XL (4XL) 5XL

Measurements: Bust circumference: 102 (107) 112 (117) 127 (137) 147 (157) 167 cm [40¼ (42¼) 44 (46) 50 (54) 57¾ (61¾) 65¾ inches]

Length: 53 (55) 57 (58) 60 (62) 64 (66) 68 cm 20¾ (21¾) 22½ (22¾) 23½ (24½) 25¼ (26) 26¾ inches measured mid back incl. neck rib edge
Materials