f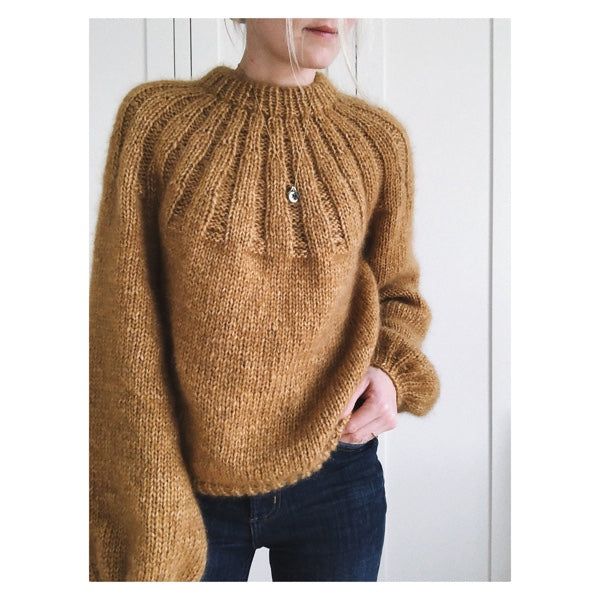 Petite Knit Sunday Pullover Project
The Sunday Sweater is worked from the top down. The yoke is worked in the round in rib and shaped with increases. The body and sleeves are worked in stockinette stitch and finished with rib edges. The sleeves on the Sunday Sweater are long and are worked with increases so they widen towards the cuff. After working the neck edge, it is knitted together to form a folded edge before the yoke is worked – alternatively it can be folded over and sewn to the inner side of the sweater at the end.
Note
Size
The Sunday Sweater is designed to have approx. 10-15 cm [4-6 inches] of positive ease, meaning it is designed to be 10-15 cm [4-6 inches] larger in circumference than your widest upper body measurement.
The sizes XS (S) M (L) XL (2XL) 3XL are designed to fit a bust circumference of 80-85 (85-90) 90-95 (95-100) 100-110 (110-120) 120-130 cm [31½-33½ (33½-35½) 35½-37½ (37½-39½) 39½-43¼ (43¼-47¼) 47¼-51¼ inches]. The measurements for the finished garment are on the front page of the pattern (note that these measurements are only achieved if the correct gauge is kept). Before beginning your project, measure yourself with a measuring tape around your bust (or wherever you are the widest) to determine which size will fit you the best. For example, if you measure 94 cm 37 inches you should knit a size M. A size M sweater has a finished circumference of 106 cm [41¾ inches], which in the given example would mean 12 cm [4¾ inches] of positive ease.
XS (S) M (L) XL (2XL) 3XL 
Finished Bust circumference:

97 (103) 106 (111) 120 (132) 140 cm [38¼ (40½) 41¾ (43¾) 47¼ (52) 55 inches]

Length:

55 (57) 59 (60) 65 (67) 68 cm [21¾ (22½) 23¼ (23½) 25½ (26½) 26¾ inches] (measured from the transition between the neck edge and the yoke)
Materials
Interchangeable needles are great for projects like this that use several lengths and sizes. For the 16" length besure to get the shorter 3.5" to 4" long tips.
Gauge
14 sts x 20 rows in stockinette stitch on 7 mm needles = 10 x 10 cm [4 x 4 inches], after blocking