f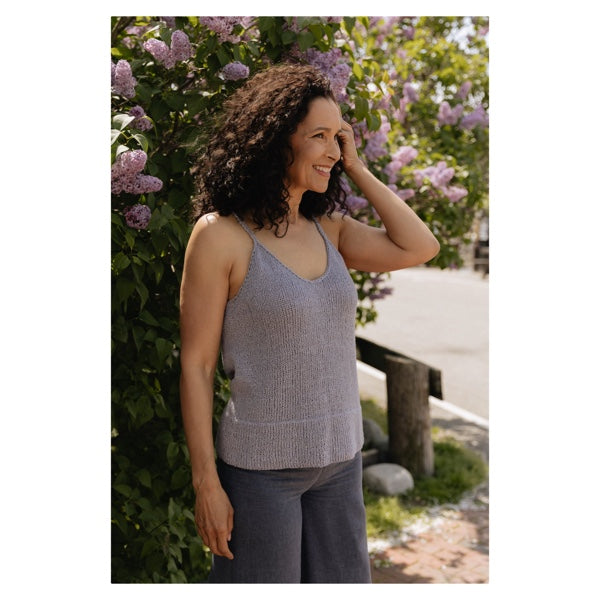 Quince & Co Holderness Tank Project
Holderness
Cassie LaFollette's Holderness elevates a simple summer tank into a work of art! Knit in the round from the bottom up, Holderness begins with a deep, folded hem and features a tidy i-cord bind off at the underarms and neckline. Easy-to-work cables create charming braided straps for a delicate and polished finish. Holderness's thoughtful construction combined with Kestrel's fluid drape create a timeless piece that is breezy and effortless to wear. You'll reach for this tank again and again.
Construction
Tank is worked in the round from the bottom up, then separated at the underarms. The body includes a folded hem. Underarms and neckline are shaped by a staggered i-cord bind off. The braided straps are achieved using simple 2-over-2 cables.
Size
Bust Circumference: 32¾ (37¼, 40¾, 45¼, 48¾) (53¼, 56¾, 61¼, 64¾, 69¼)" [83.5 (94.5, 103.5, 115, 124) (135.5, 144.5, 155.5, 164.5, 176) cm]
Shown in size 37¼" (94.5 cm) on a 34″ [86.5 cm], 5′ 9½" [176.5 cm] tall model (3¼" [8 cm] positive ease)
Suggested 3¼" (8 cm) positive ease
Materials
Skills
Long-tail cast on, invisible provisional cast on, cables with and without a cable needle, Meg Swansen's speedy i-cord bind off, grafting (Kitchener stitch), (links provided); decreasing, knitting in the round (see our knitting techniques page for curated tutorials).