f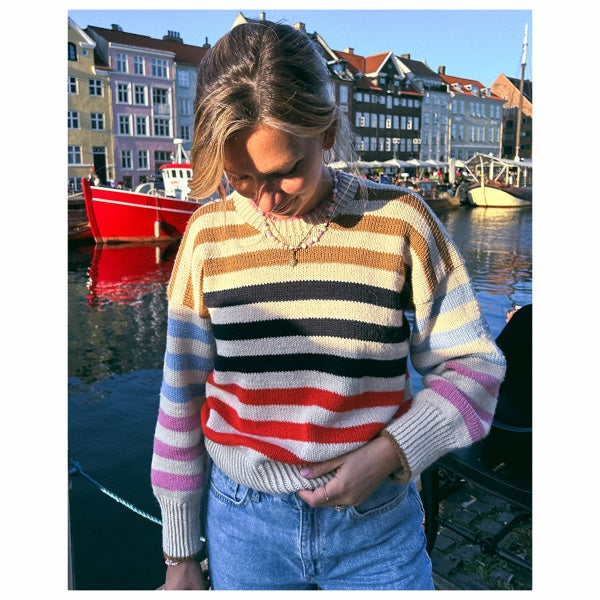 Stripe Hype Pullover PROJECT
Stripe Hype Sweater
The Stripe Hype Sweater is a great stash busting project where you can use up scrap yarns or combine your favourite colors in just the way you want. Also, knitting stripes makes this one a really quick project to complete because the curiosity of seeing how every next stripe will affect the overall look is highly addictive, and a lot of fun.The work begins by working the back flat, then stitches are picked up for the left and right front separately and worked flat. The back and front are then joined together and the body is worked in the round. Stitches are picked up for the sleeves and worked in the round and lastly stitches are picked up around the neckline and the collar is worked in a twisted rib stitch.
Size
XS (S, M, L, XL) (2XL, 3XL, 4XL, 5XL)
Finished

 

bust circumference: 90 (106, 116, 126, 136) (146, 156, 168, 178) cm / 35.5 (41.75, 45.75, 49.5, 53.5) (57.5, 61.5, 66, 70)".
Length from back neck (excluding collar) to hem: 59 cm / 23.25" all sizes.
Sweater is designed to have 20-30 cm / 8-12" of positive ease. Choose a size that is 20-30 cm / 8-12" bigger than your bust circumference for a relaxed and slightly oversized look.
Sample in size M, model has a bust of approx. 87 cm / 34.25" and is 171 cm/ 5'6" tall.
If you're between two sizes, I recommend choosing the bigger size.
Yarn
MC (2511 Almond): 6 (7, 7, 8, 8) (9, 9, 10) balls
CC1 (2345 Croissant/brown): 1 (1, 1, 2, 2) (2, 3, 3) balls
CC2 (5581 Sailor in the Dark/dark blue): 1 (1, 1, 2, 2 (2, 3, 3) balls
CC3 (3819 That Orange Feeling/red): 1 (1, 1, 2, 2) (2, 3, 3, 3) balls
CC4 (6032 Blue Hortensia/blue): 1 (1, 1, 2, 2) (2, 3, 3, 3) balls
CC5 (4626 Shocking Pink/pink): 1 (1, 1, 2, 2) (2, 3, 3, 3) balls
Materials