f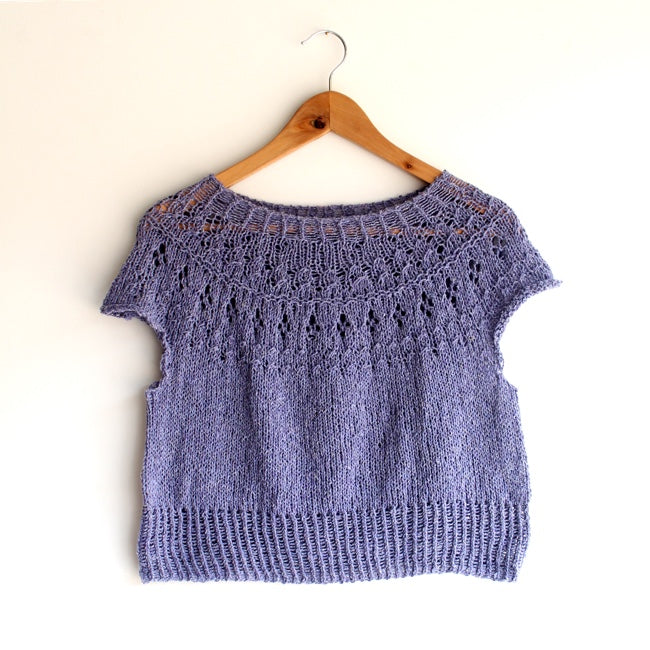 Ranunculus Summer Top PROJECT
Ranunculus
We worked up this little top (Ranunculus) as an experiment to see how far we could stretch one skein of Berroco Remix Light - it turns out it can go the distance! Remix Light is a very popular little sprig and summer yarn that ticks a lot of boxes:
it's very light and has double the yardage of an average cotton summer yarn (100g/400m)
it's machine washable
it's soft and comfortable to wear
it's comfortable and easy to work with
it's eco-friendly, and made from a blend of recycled fibres: Cotton, Linen, Silk, Acrylic, and Nylon.
it's made in the first world (France), so no slave labour involved, just unionized, properly paid EU workers
it's affordable and only costs $16.47/ball
We made the smallest size in the short sleeve and it only took ONE ball. Most of the sizes, long and short sleeved, use two balls ... making it a VERY affordable project. The pattern has instructions for both a short and a long sleeve version, and it is knit from the top-down, so you can make your sleeves any length you want.
Size
We made the short-sleeved version in Size 1 on 5.5mm/US9 & 4.5mm/US7 needles, and the combination of the needle size and the unique qualities of the yarn's fibres made ours come out smaller than the pattern. Our tension was 18 sts & 26 rows = 4″/10cm (un-stretched) – this is a big difference to the pattern, which is a gauge of 14 sts & 20 rows = 4″/10cm.
Our garment ended up smaller than the pattern specifications: it measures 18″ across the chest (36″ bust) and 16″ high from the back of the neck to the bottom ribbing … a big drop from the pattern's 46″ bust circumference. That said, I'm extremely happy with the finished project! It's am amazing little top, and the size is just right for someone who wears a size XS or S. The fit is cropped, and after trying it on I'd say it's a roomy fitting size small, or oversized XS. The fabric is very stretchy, it has a lot of give and a surprising amount of memory! It is very light and doesn't have a ton of drape. We used the majority of 1 skein of yarn, and only had about 3g left (we used approx. 375m, or 5m more than the pattern suggested).
If you choose to follow our lead and use the yarn & needle combo we did (and your tension is the same) you can probably estimate the size will come out 20% smaller than the pattern recommends (ours was 22% smaller), so multiply the finished size by 0.78 got get a good idea of where yours will end up (see the measurements in bold below, I did the math for you).
1 (2, 3, 4)(5, 6, 7)(8, 9, 10, 11)
Pattern's Finished bust circumference: 117 (123, 129, 134) (140, 146, 151)(157, 166, 174, 180) cm / 46 (48.5, 50.75, 52.75)(55, 57.5, 59.5)(61.75, 65.25, 68.5, 70.75)"
Our Finished Bust Circumference (corrected to 18 sts/4″): 36(38, 40, 41.25)(43, 45, 46.5)(48.25, 51, 53.5, 55.25)"
Yarn
We used Berroco Remix Light, a very light and airy bend of recycled plant and synthetic fibres – perfect for warm weather! Because we used up a good amount of our yarn, I have factored that into the yardage suggestions below and leaned on the side of caution so you won't run out.
Remix Light has a light, nubbly, tweedy texture, which lends itself perfectly to this particular project. See finished Ranunculi made with Berroco Remix Light.
Short sleeve: 1(2, 2, 2)(2, 2, 2)(2, 2, 2, 2) balls
Long sleeve: 2 (2, 2, 2)(2, 2, 2)(2, 3, 3, 3) balls
Other Great Spring & Summer Yarn Options
The pattern is written to be knit in a variety of yarn weights, from Lace to Worsted. Ideally, you want a solid or semi-solid coloured yarn, or a yarn that knits up in a very long, gradual ombre colourway, so you can see the details in the lace and textured stitches. The thinner the yarn, the lacier the sweater will be (yarn thickness goes from the thinnest at lace weight, then fingering, then DK, then worsted).
Berroco Modern Cotton (worsted weight – see finished projects):
Short sleeve: 2(3, 3, 3)(3, 3, 3)(4, 4, 4, 4)
Long sleeve: 3 (3, 3, 4)(4, 4, 4)(5, 5, 5, 5)
Berroco Modern Cotton DK (DK weight):
Short sleeve: 2(2, 2, 2)(2, 2, 2)(2, 3, 3, 3)
Long sleeve: 2 (2, 2, 2)(3, 3, 3)(3, 3, 3, 3)
SALE Cascade Ultra Pima (DK Weight – see finished projects);
Short sleeve: 2(3, 3, 3)(3, 3, 3)(4, 4, 4, 4)
Long sleeve: 3 (3, 3, 4)(4, 4, 4)(4, 5, 5, 5)
SALE Berroco Pima Soft (DK weight):
Short sleeve: 4(4, 4, 4)(5, 5, 5)(6, 6, 6, 6)
Long sleeve: 5 (5, 6, 6)(6, 7, 7)(7, 8, 8, 8)
Schoppel Zauberball Cotton (fingering weight – see finished projects):
Short sleeve: 1(1, 1, 2)(2, 2, 2)(2, 2, 2, 2)
Long sleeve: 2 (2, 2, 2)(2, 2, 2)(2, 2, 3, 3)
 Other Materials
5.5mm/US9 circular needles
4.5mm/US7 circular needles
stitch markers
tapestry needle