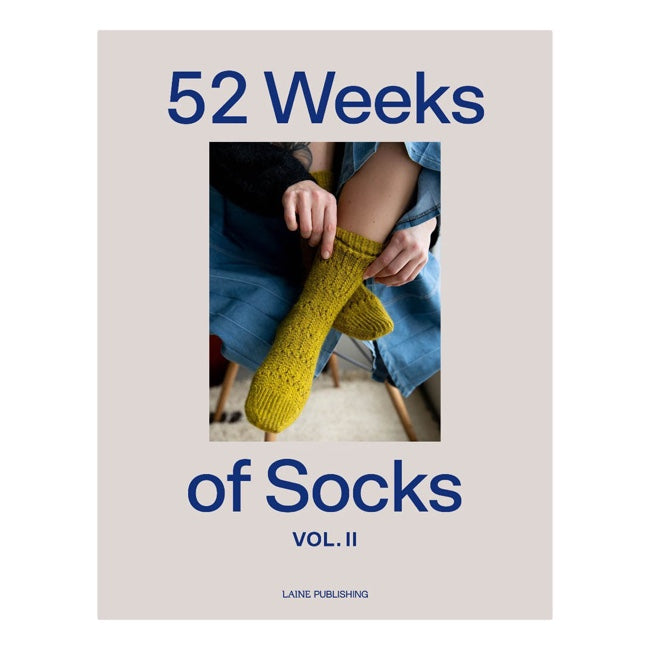 52 Weeks of Socks Vol. II from Laine
They are fun to make, quick to finish and always needed — no wonder so many knitters love socks!
52 Weeks of Socks, Vol. II offers even more inspiration for all sock enthusiasts. It is a colourful and abundant collection of patterns from a diverse group of interna­tional designers. Using a variety of different techniques and yarns, the book has something for both beginners and advanced knitters.
This visually impressive volume continues the series of the bestselling 52 Weeks of Socks, 52 Weeks of Shawls and 52 Weeks of Easy Knits.
52 Weeks of Socks, Vol. II is a more colourful and even more versatile book than its predecessor.
There's something for everyone: lace, cables, stripes, ruffles, colourwork — even a pair embellished with beads! The patterns are clear and approachable and come with a short intro and a note on the construction.
256 pages
52 knitting patterns for socks and slippers
All patterns come in 3 sizes
Hardback
Ribbon bookmarker
Language: English (also available in Finnish)
ISBN: 978-952-7468-52-4 (English edition)
Weight: Approx. 1150 g / 2.5 lb
Dimensions: 215 x 278 x 26 mm
Printed in Latvia