f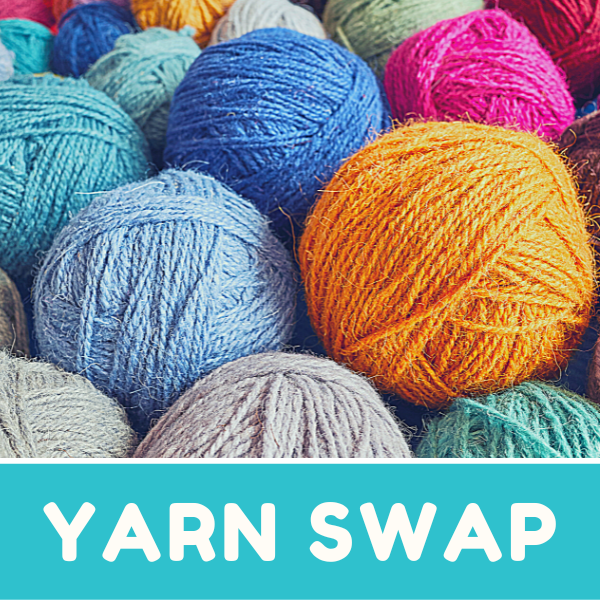 Yarn Swap
NEXT SWAP: TBA

After a long hiatus for COVID .... it's swap time again! Time to tidy up your yarn stash and purge the stuff you're never going to use. That's right, you can bring us your shame and leave your guilt in our yarn swap bins with the assurance that the yarn that didn't work out for you will have a second (or third, or fourth) life in a new home. What do you do at a swap? Bring in the yarn and needles you don't want and take home whatever you like from our swap bins.
Bring
Yarn (MUST be in a sealed ziplock bag)
Knitting Needles & Crochet Hooks
Knitting & Crochet Notions, Accessories, Books
NOTE:

 

partial balls are fine, but they MUST be bagged in a sealed ziplock.
Details
The leftovers are donated to charities, and don't be embarrassed by the quality of the yarn you bring, whatever is left over is donated to charities like
Street Knit
, most of whom prefer acrylic! If you want to donate but can't make the date please feel free to drop it by when we are open, sealed up in a plastic bag. The only yarn we can't accept is anything that is strongly scented (cigarette smoke or perfume). We are also a drop-off point for 
Street Knit
 and 
Knitted Knockers of Canada. 
DATE: TBA

$10 to participate in the swap (proceeds go to the Red Door Family Shelter)
Dropping off donations is always FREE 
Drop-in, no need to sign up
Everyone is welcome, all skill levels
Location: 1382 Bathurst St, Toronto ON
All leftovers go to charity (see above)
If possible, we request anyone attending our events to please refrain from wearing perfume
All yarn donations must be in a sealed ziplock bag