f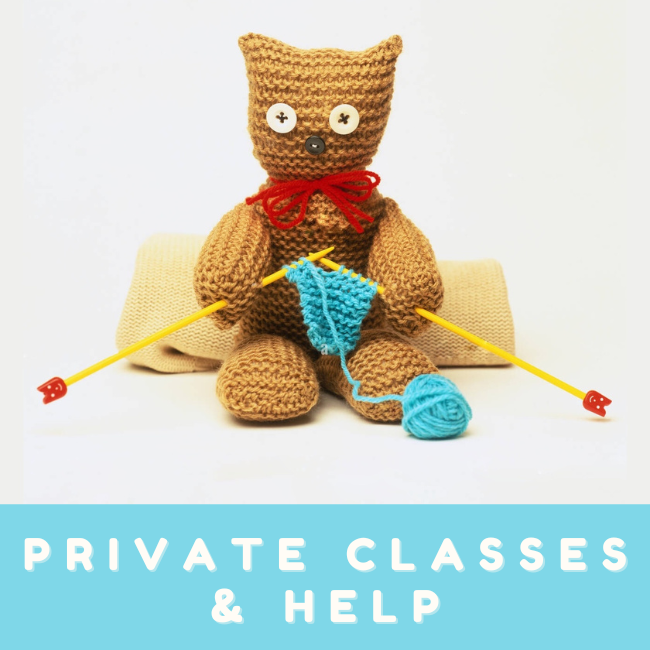 Private Classes & Help
 Private Classes & Help
Learn something new, catch up with an old project, or get help with a new one - you set the agenda. Private classes are by appointment only, please book online by clicking the button below, or call us at 416-653-7849 to make an appointment. 
If you're coming for a beginner knitting or crochet class we sell everything you need and you can pick up your materials when you come for your lesson. Private classes are one-on-one instruction, in-person in the store. You can learn what you want and at your own pace. You can book 10 minutes for quick help (like a dropped stitch), 1/2 hour for project help, 1 hour for a lesson, or 1.5 hours for a beginner lesson or for something more involved. If you aren't sure how much time you'll need just contact us and we can help.
Details
Ages 8 & up
Maximum 2 people per private class (or contact us to arrange for a larger group)
Dates: Please see our calendar for dates and time (click the 'Book Appointment' button)

You pay for the class in person when you attend your class
$4.97 for 10 minutes

(or $29.97 per hour) 

per person (+tax). 
Beginner Class Materials
If you are an absolute beginner you can purchase your materials with us before your class or when you come for your class. We recommend the following materials (do not choose black or navy, dark colours are hard to see and make learning more difficult):
Beginner Knitting
Beginner Crochet