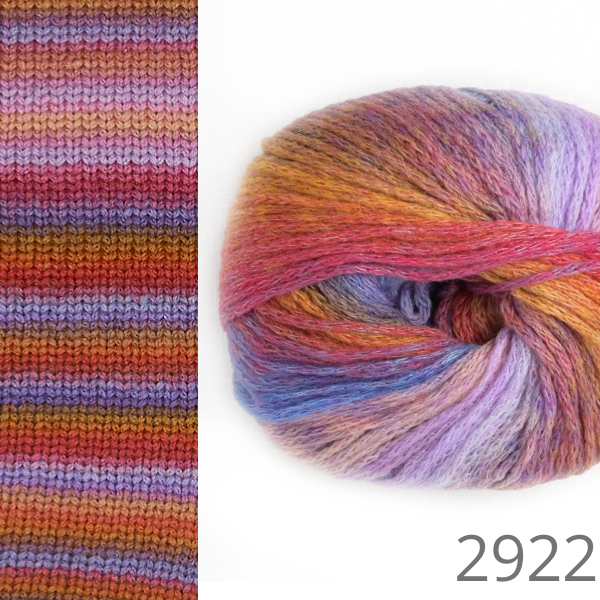 Berroco Wizard
We currently have 6 in stock.
NEW COLOURS FOR FALL 2023!
Berroco Wizard
 is a super soft, light & happy bulky weight yarn. It stripes by itself, with bold colors flowing. It has a chainette construction which makes it feel deliciously airy and weightless. The consruction is also respinsible for it's very generous 240m yardage - the same amount of a typical bulky weight yarn would normally be about 100m to 125m. Wizard is also machine washable, so it's great for all kinds of projects including blankets, sweaters, hats, scarves, mitts - even a cozy pair of -slipper-socks! 1 ball should be enough to make 2 beanies (without pom-poms), or 1 beanie and 1 pair of mittens. 
85% Superwash Merino Wool, 15% Nylon
100g/240m (264 yds)
Bulky Weight
6mm to 6.5mm/US 10 to 10.5 needles
6.5mm/K crochet hook

Knitting Gauge: 14-16 sts & 20-23 rows = 4" (10cm)

Crochet Gauge: 13 sc & 16 rows = 4" (10cm)

Machine wash separately in cold water on delicate cycle. Lay flat to dry.
When checking your tension do so with WET BLOCKING to get the most accurate stitch gauge.
Made in Italy
Projects & Patterns
What's a 'Chainette' Yarn?
A chainette yarn is a yarn that is created by knitting a tube from a fine strand of yarn. This makes the yarn extremely light and fluffy. The chainette construction has several benefits:
Chainettes are extremely light, yet at the same time warm, because they hold a lot of air (which is actually an insulator). 
Chainettes don't split when you're working with them.

Because they are so light, chainettes typically have longer yardage than other yarns of the same thickness. 
Chainettes tend to have a bit more elasticity and give, because they are already knitted. 
You can play around with needle size and tension because the yarn can be squished down or allowed to bloom.
Because they are already knitted, chainettes tend to have a little bit of texture built-in.