f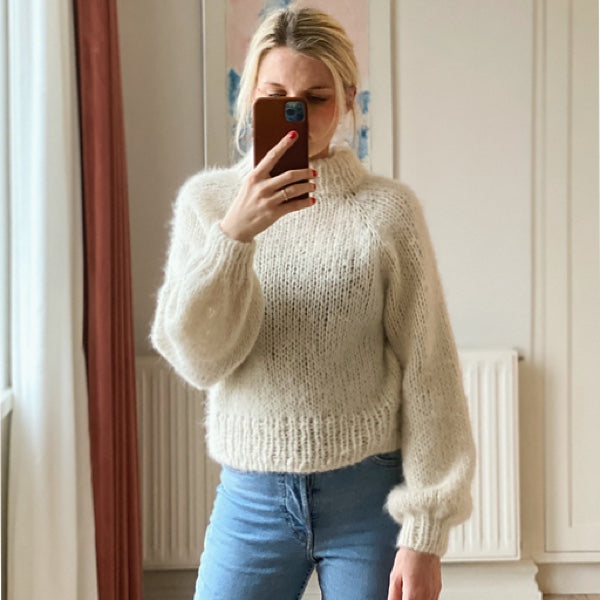 Petite Knit Louisiana Pullover Project
The Louisiana Sweater by PetiteKnit is a fast little top-down project to keep you warm & cozy in the fall & winter months. It's worked on 9mm/US19 needles, and there are lots of soft & comfy yarn options to choose from!
Construction and Fit
The Louisiana Sweater is worked from the top down with raglan increases on the yoke. The ribbing at the neck edge is folded and knitted together to form the neckline. The Louisiana Sweater has a short, feminine fit. The sleeves have tight-fitting ribbed cuffs. The designer recommends using the Italian bind-off method (or Tubular Bind-Off) on cuffs and hem for a neat, elastic edge. 

Notes
You can videos on the techniques used in this pattern at  www.petiteknit.com.
Before you start knitting the sweater, begin by knitting a swatch to determine which needle size will give you the correct gauge.
Size
The Louisiana Sweater is designed to have approx. 10-15 cm [4-6 inches] of positive ease, meaning it is designed to be 10-15 cm [4-6 inches] larger in circumference than your widest upper body measurement. The sizes XS (S) M (L) XL (2XL) 3XL are designed to fit a bust circumference of 80-85 (85-90) 90-95 (95-100) 100-110 (110-120) 120-130 cm [31½-33½ (33½-35½) 35½-37½ (37½-39½) 39½-43¼ (43¼-47¼) 47¼-51¼ inches]. The measurements for the finished garment are on the front page of the pattern (note that these measurements are only achieved if the sweater is knitted on the correct gauge). Before beginning your project, measure yourself with a measuring tape around your bust or the widest part of your upper body to determine which size will fit you the best. For example, if you measure 90 cm [35½ inches] around your bust (or wherever you are the widest) you should knit a size S. A size S sweater has a bust circumference of 104 cm [41 inches], which in the given example would give you 14 cm [5½ inches] of positive ease.XS (S) M (L) XL (2XL) 3XL (4XL) 5XL
Size: XS (S) M (L) XL (2XL) 3XL
Finished Bust circumference:

100 (104) 110 (114) 124 (132) 138 cm [39¼ (41) 43¼ (45) 48¾ (52) 54¼ inches]

Length:

53 (54) 56 (58) 58 (60) 62 cm [20¾ (21¼) 22 (22¾) 22¾ (23¼) 24½ inches] (incl. folded neck edge)

Sleeve Length: 41 (42) 43 (43) 43 (44) 44 cm [16¼ (16½) 17 (17) 17 (17¼) 17¼ inches]
Yarn Options
One of the great things about this project is that you have lots of options to choose for your yarn. The yarn that is closest to the one called for in the pattern is Drops Melody, a super-soft, bulky weight brushed alpaca blend, which is worked holding two strands together. For a slightly less fuzzy look you can also use a single strand of Drops Wish, or try Drops Air holding two strands together. For a more mixed texture try combining a strand of Drops Air and Drops Melody together. Finally, for a super smooth surface texture and complete machine washability you can work with a single strand of  Estelle Merino Big. 
A. Drops Melody (2 strands held together): 7(7, 8, 8, 8, 10, 11) balls
B. Drops Air (2 strands held together): 6(7, 8, 8, 8, 9, 10) balls

C. Drops Wish (single strand): 7(8, 8, 8, 8, 10, 11) balls
D. Drops Air & Drops Melody (1 strand of each yarn, held together):  Air  3(4, 4, 4, 4, 4, 5, 5) balls,  Melody 4(4, 4, 4, 4, 5, 6) balls
E. Estelle Merino Big (single strand): 6(7, 7, 7, 7, 9, 9) balls
Materials
Gauge
10 sts x 14 rows in stockinette stitch on 9 mm [US13] needles with 2 strands of yarn held together = 10 x 10 cm [4 x 4 inches], after blocking