f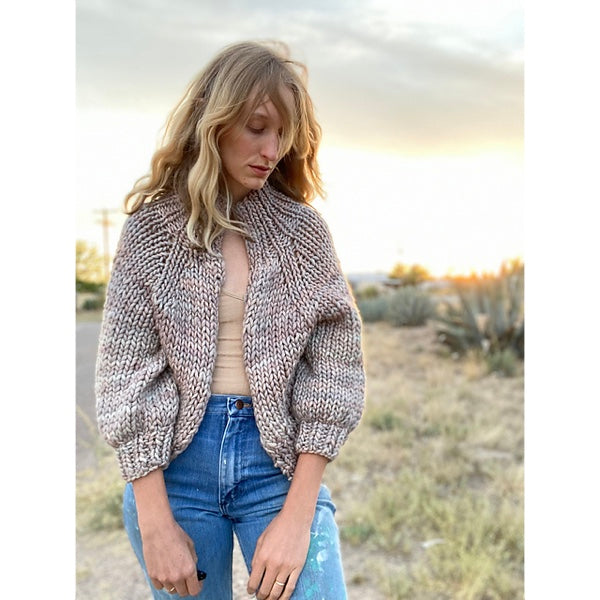 Nanaimo Cardigan PATTERN
Nanaimo 
Size
XS/S, (M/L), (XL/XXL), (XXXL)
Width at bust (lying flat): approx 49.5 cm / 19.5" (56 cm / 22"), (62. 25cm / 24.5") ( 68.5 cm / 27") (75 cm /29.5")
Body length: approx 42 cm / 16.5" (46 cm / 18.5) or desired
Yarn Options
All of the yarn options listed are super soft and utterly delicious against the skin - you can't go wrong with any of them, the only choice is the aesthetic you prefer.
1. WATERCOLOUR MARVEL
Malabrigo Rasta: 4(5, 6, 7) skeins
Malabrigo Rasta is a hand-painted, single-ply, 100% merino wool made in Uruguay. It's very popular and we generally have a hard time keeping sweater quantities in stock, so if you're in love be sure to put a ring on it and lock it down!
SEE FINISHED PROJECTS MADE WITH MALABRIGO RASTA
2. SIMPLE & CLASSIC
Cascade Spuntaneous: 4(4, 5,6) skeins
Cascade Spuntaneous is single ply, 100% merino wool made in Peru. It's machine dyed and comes in solid and heathered colours. If you want a classic look, look no further.
SEE FINISHED PROJECTS MADE WITH CASCADE SPUNTANEOUS
3. SUPER LIGHT 'N FUZZY:
Drops Melody (3 strands together): 7(8, 10, 12) balls
Drops Melody is a super fuzzy blend of alpaca and wool that looks like mohair and feels like the downy feathers on a baby chick (or a puppy, kitten, etc. other baby animals). Hold three strands of this yarn together to get a super thick mohair look without sacrificing softness.
4. FUZZY WITH BODY:
Drops Wish (5(6, 7, 8) balls + Drops Melody 3(3, 4, 4) balls, (hold 1 strand of each yarn)
Drops Wish is a blown yarn with super soft alpaca & merino wool blasted into a knitted core of pima cotton. The result is a lofty, airy yarn that's light with a fuzzy aura. Pair one strand of Wish with one of super soft Drops Melody (see above) to get a sweater with both body and a bit of fuzzy happiness.

Colours that work together:

Light Grey Heather: Wish 03 + Melody 03
Charcoal Grey Heather: Wish 07 & Melody 04
Oatmeal Heather: Wish 05 & Melody 15
Off White: Wish 01 & Melody 01
Curry: Wish 12 & Melody 18
Denim Blue: Wish 09 & Melody 07
Raisin: Wish 10 & Melody 20
Rust: Wish 11 & Melody 19
Needles
Needle sizes aren't listed, so check the pattern to confirm what you'll need (although we expect it will be similar to the pattern above). We think Interchangeable needles area great way to go when a pattern calls for a bunch of sizes you don't normally use. The Knitter's Pride tips can be a great value, while the Addi Interchangeables are the premium option.
If you prefer fixed circular needles, Clover and Addi both make wonderful quality circular needles, and if you want a wood 15mm/US19 circular check out the Knitter's Pride Fixed needles.
Other Materials