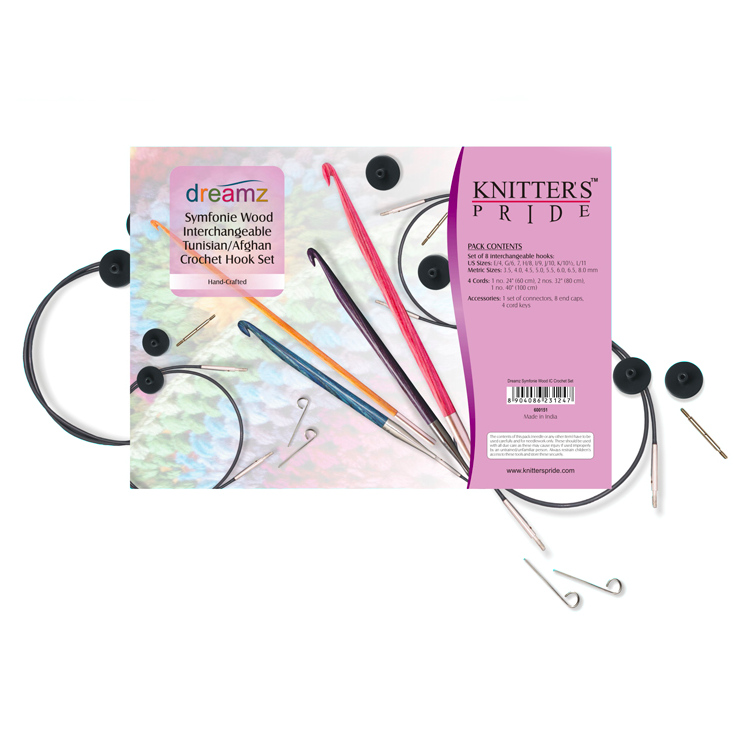 Knitters Pride Interchangeable Crochet Hook SET
We currently have 1 in stock.
The Knitters Pride interchangeable crochet hooks are perfect for Tunisian Crochet, they have a smooth finish with just the right amount of grip that provides hours of comfortable crocheting. Both beginning and experienced crocheters will appreciate the deeply grooved hooks which allow for precision control over each stitch. Made of strong, lightweight wood, they are warm to the touch, gentle in the hand and ideal for everyone. The resilient, flexible cords lay flat, with no kink or twist, and are easy to both use and to store. Hooks are approximately 15.5cm/6" long. Made in India. Entire set value is approximately $110 if purchased individually. 
Set Includes
8 Hooks: 3.5, 3.75, 4.0, 4.5, 5.0, 5.5, 6.0, 6.5 mm (US sizes E, G, 7, H, I, J, K, L)
4 colour coded cables:  1 x 24" (60cm), 2 x 32" (80cm), 1 x 40" (100cm)
1 set cord connectors
8 end caps
4 cord keys
clear vinyl pouch
Extras Available Individually