f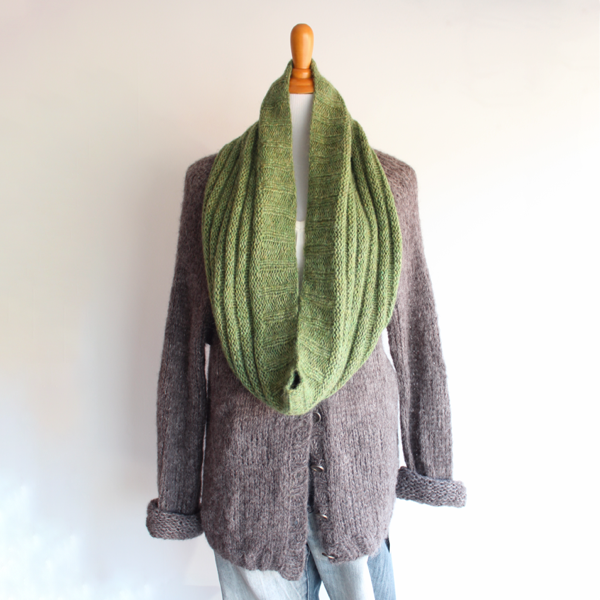 Infinitude 'Scarf' Cowl Project
Infinitude 'Scarf' Cowl
I really love how this project came out! It's soft, airy, light, cozy, and with the pattern being free and the yarn only costing $20, it's a pretty cost effective knit too! If you're starting to think about holiday gift to knit, this is a great go-to project.
The pattern is called a scarf, but I don't know why because it's actually a cowl. We made the smaller size and in the yarn we used (Drops Air) it can be worn either once or twice around the neck. I also found that the "twice around" brings the 'full goldilocks' - it isn't too big or too small, it's just right (in my mind, that means it doesn't gape, letting cold air in). If your finished project looks small just wet-block it, mine stretched from 20" x 10" to 24" x 9".
The Pattern
The pattern, Infinitude Scarf, is a simple little thing that combines knits and purls in the easiest way. The skills are pretty simple: casting on, working in the round, using a knit & purl stitch in the same row, and binding off. We made the smaller size, but had extra yarn so just kept going in the welt pattern by adding an extra 3 pattern repeats (so we did "Knit 
4 
rnds,
 purl
 4 
rnds" a total of 6 times).
The Yarn
We used two skeins of Drops Air, a new yarn for us this year. It's a super light and airy alpaca that knits easily and looks great! It's a 'blown' yarn, which means it consists of a loosely knit chain core made of polyamide and then the Alpaca is literally blown into and through this core, coating it in a delightful halo of the softest alpaca. The result is an extra depth of colour because you can see a bit of the core through the translucent outer layer. Drops Air comes in both heathered and solid colours, but I think the heathers are extra pretty, with that extra dimension of colour added. Did I mention that it's also super soft? Yeah, it's crazy soft, it totally passes the neck test. Drops Air comes in a bunch of colours, made in Peru and the European Union, and it only costs $9.97 a skein.
Materials
Drops Air: 2 skiens (colour 12 Moss Green Mix)
5mm/US8 - 29" circular needles
1 stitch marker
tapestry/darning needle
The Final Assessment
This project was a WIN. Pattern: Good. Yarn: Goooood. Finished Product: Great!
P.S. the SWEATER in the pictures is Paprika, make with Drops Brushed Alpaca and Silk, and the details are HERE.