f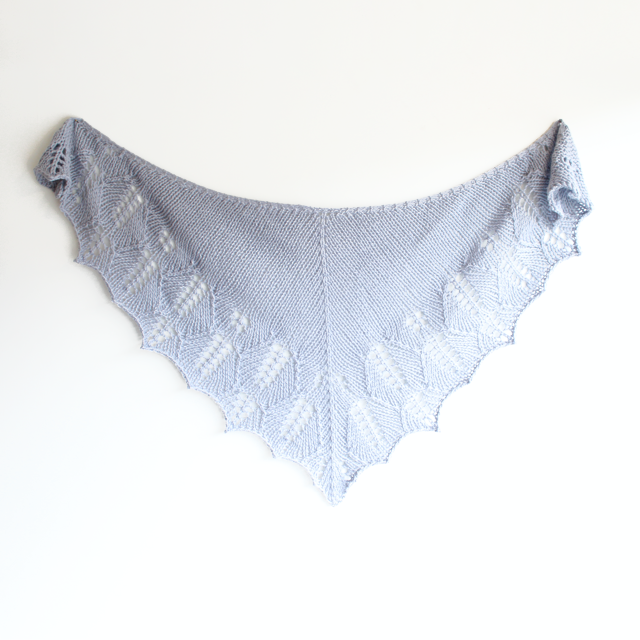 Decemberist Project
Decemberist
Please meet our latest success, Decemberist! I've been eyeballing this pattern for a while and figured "What have I got to loose?!" It knits fast with super thick yarn on 9mm/US13 needles (or larger if your yarn is accommodating). We used 3 balls of Drops Andes in colour 8112, an icy blue, so it was a pretty affordable project too ($33). The pattern was straight-forward, and the lace is given in both written instructions and as a chart – it probably fits into an advanced-beginner/intermediate skill level, and would probably make a decent introduction to lace knitting for anyone wanting to expand and explore.
Overall, I think it is a very successful project, and it would make a great holiday gift knit (I kind of like that it looks like a substantial sized gift, even though it's light on cost and labour). If you know someone with a cottage it would make an amazing wrap to snuggle up in at night or at the end of the season. Women who work in cold offices will also appreciate one of these. I also think that this wrap is so pretty that when your friends/family/colleagues see you wearing this they are going to ask you to make them one, so you might as well get ahead of the curve and start early. Will it look a little strange seeing the women in your office walking around wearing the same wrap in different colours? Maybe, but the Pointer Sisters rocked the look, so I say own it and be your best, favourite you!
How to Grow Your Decemberist
If you want to make yours larger the easiest way is to use a slightly thicker yarn with a larger needle. Malabrigo Rasta (5 skeins) and Cascade Spuntaneous (3 skeins) would both be great yarns to sub, and you can go up to a 12mm/US17 needle with both of them. Unless you are a tight knitter, I would NOT increase the needle size for the Drops Andes; after blocking the fabric flows and drapes, its a beautiful tension (around 9 sts over 4″/10cm).
If you feel confident with your mathimagical abilities, you can also upsize the pattern by increasing the amount of stocking stitch you work before starting the lace. You'll need to add an extra 36 sts to the stocking stitch section (so you'll need to do an extra 6 repeats for "Section 1", which would add an extra 12 rows). Depending on your tension, this should give you about an extra 3.75″/9.5cm of depth and about 16″/40cm in width.
Materials
Needle Hack
If you don't already own 9mm/US13 needles (or larger) this might be a great opportunity to buy some Knitters Pride Interchangeable needles. You'll need a long cable for this project, which is something you may not get a lot of use out of in the future (unless you're going to get into making Bulky Blankets, which are awesome things in their own right). With interchangeable needles one pair of tips can become any length of circular needle from 24″ to 60″, and extra cords are a very reasonable $3.97 each (instead of $20 to $35 for a new pair of needles with a different length cord).
Conclusions
This project is a two thumbs up! It's pretty, fast, not too complicated, affordable, and giftable. I'm thinking about trying it again in Malabrigo Rasta in 429 Cape Cod Grey, but I'll wait a month or so in case you guys need the yarn.