f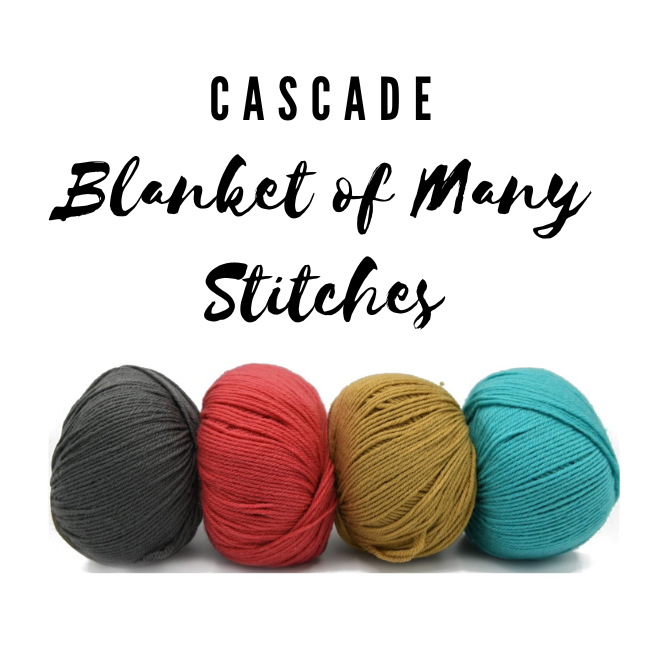 Cascade Blanket of Many Stitches PROJECT
Project Details

Cascade 2021 blanket is the "Blanket of Many Stitches" … a striped stitch sampler
Made with  CASCADE 220 SUPERWASH
Made with 4 colours, a total of 17 balls of yarn (colour A – 5 skeins; colours B to D – 4 skeins each)
Each stripe is approximately 2" long
Each stitch pattern is a repeat of 12 stitches
Finished measurements: 36″ x 52″
See Projects
Check out some of Cascade's Past MKALs:
Yarn
Cascade 220 Superwash is a staple around here! It's made with 100% machine washable Peruvian wool which is easy to work with and wear (it softens up considerable after washing). It's very popular for all kinds of projects, including baby, kids, accessories, sweaters, blankets, etc.
Colour A: 5 skeins
Colour B: 4 skeins
Colour C: 4 skeins
Colour D: 4 skeins
There's also no reason to limit yourself to 4 colours. Choose as many as you like, you'll need 17 balls total.
Colours
It's hard for us to carry every colour in this yarn line (they have SO MANY colours that we already have to split it up into heathered and solid colours for tech reasons), but we can always look into special-ordering a colour you want for your MKAL blanket, or finding a substitute that works. All the colours available to us through our Canadian distributor are HERE.
The colours combinations in the pictures are provided by Cascade Yarns, and may not be accurate. The photos on our website have been colour-corrected to match the actual yarn as possible. The colour combinations offer a colour palette suggestions, but you can choose any colour you like. Most of the colour combinations seem to have 1 dark colour, two medium colours, and 1 light or bright colour.
Other Materials
Photo Links