f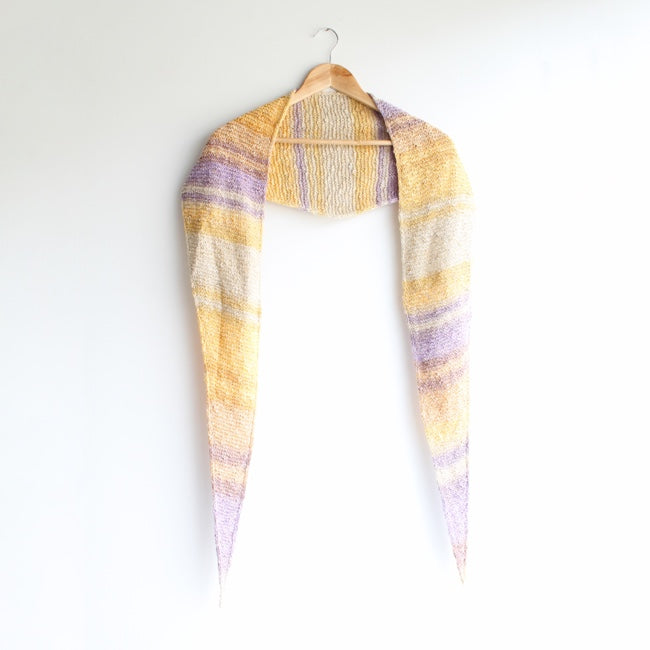 Sophie Shawl in Vivo PROJECT
Sophie is a simple shawl that's knit horizontally, from tip-to-tip. It's a quick, easy knit thats great for little projects .... perfect for travelling or patio season. It calls for a worsted eight yarn, but we tried it out with Berroco Vivo, a textured, DK weight, 100% cotton, just to play around and see what would happen. What happened was a really pretty, light little spring/summer wrap!
Size
We made a size medium and I feel like it turned out as more of a scarf than a wrap (I had an uncertain amount of yarn on hand and I wasn't sure how far it would go). We only used 1.22 balls (or 330m) of Berroco Vivo, and I feel like it turned out a bit small as far as wraps go, so if I made another I'd go up to the largest size. If you are using Berroco Vivo you will likely not use as much yarn as is recommended in the pattern, it seems to have gone further than expected.
Our Finished Sample: Size Medium - 11" (27.5cm) deep, 80" (200cm) long
Pattern Size: S (M) L
Pattern Length from tip to tip: approx. 170 (210) 240 cm or 67 (82¾) 94½ inches
Easily Change the Size
Because the pattern is knit from side-to side, its really easy to just knit until you've used up half of your yarn, then start the decreases. Just be sure to weigh your yarn before you start, so you know how much is you half-way mark (I use an inexpensive digital kitchen scale from Amazon). If you want you can also make your shawl larger than the largest size, you just need to start your decreases later.
Materials
Berroco Vivo: 1 to 2(2, 2 to 3)

4.5mm/US7 needles (straight or circular)

Tapestry or Darning needle
Spring & Summer Yarn Alternatives
Fall & Winter Yarn Alternatives
Just in case you happen to be vacationing in the southern hemisphere any time soon … if you want to make a fall/winter version or something with some fuzzy, my favourite options are