f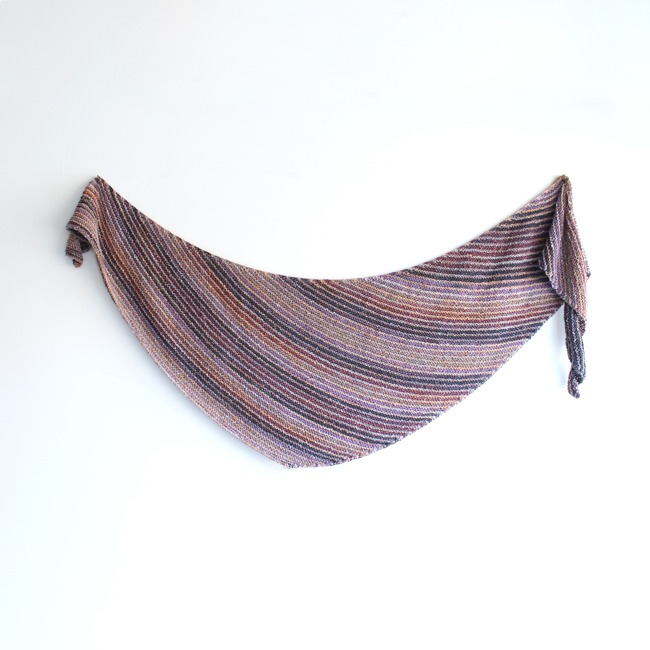 Playful Wrap PROJECT
Playful

Playful is a great little project for travel or any other time when you want something portable and simple on your needles. It's a little scarfy-shawly thing that works up quickly, making it very giftable and equally wearable. We used two contrasting colours of Berroco Summer Sesame (5238 Orchid, 5250 Sand) and took advantage of its natural self-striping abilities. The yarn's texture also adds a little depth to the garter stitch, giving it a quasi-earthy richness (I love garter worked with textured yarns, they look so artisanal).
The pattern is a freebie, and the project only requires one set of needles and two balls of yarn, so overall I think this project is an accessible little spring/summer treat. If you want a larger shawl you'll need an extra 2 skeins of yarn.
Size
length: 14″/37cm high at widest point
width: 70″/175cm tip to tip
Materials
Berroco Summer Sesame: 1 skein in MC, 1 skein in CC (5238 Orchid, 5250 Sand)
4.5mm/US7-29″ circular needles
tapestry needle
Combining Colours
The striping works best when your yarns have a decent amount of contrast. In our case, the purple yarn is a reasonable amount darker than the beige. Any of the colours available in Berroco Summer Sesame will work well with 5250 Sand as a contrast – you can't go wrong with a neutral!
If you use two colours that are too close in value (the amount of lightness or darkness) or colour then you won't see your stripes. For example, 5249 Alloy (black), 5242 Ocean (dark blue), and 5238 Orchid are all very dark, and you won't see much contrast if you combine any of them.
Neutral colours, like natural, beige, grey, and black are often ideal contrast colours. Dark blues like Navy can also make a very clever contrast colour.