f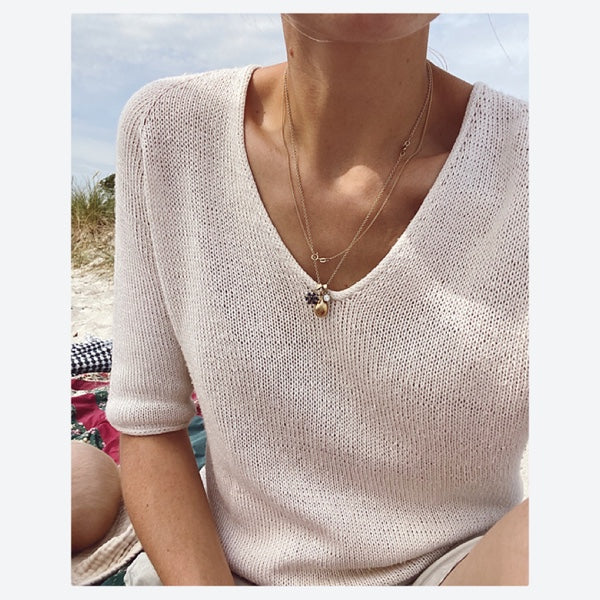 Petite Knit Cumulus Tee/Top Project
Cumulus Tee from Petite Knit
The Cumulus Tee from Petite Knit is a super simple and elegant top that's great for summer knitting & wearing. It's worked in stockinette stitch and has a rounded V-neck in the front. The sleeves are elbow length, and all edges are finished in i-cord. The Cumulus Tee is made in one piece from the top-down and requires no finishing work at the end, so chances are you'll actually finish it THIS summer. It's worked at a tight enough tension that you won't need to wear a cami underneath - another summer bonus. Since it's made from the top, you can make it as long or cropped as you like, and modify the length of the sleeves to suit your taste.

NOTE: technique tutorials for this project are available from the designer's website HERE
I suggest using Quince & Co Sparrow for this project - a high-quality 100% organic linen from Italy. Sparrow is the nicest linen I've ever come across, and since I found it I've never been able (or inclined) to back. It knits up beautifully, wears beautifully, and washes beautifully and easily - it's the base for my summer uniform (Gillespie).
See Cumulus in Quince & Co Sparrow
Size
The Cumulus Tee is designed to have approx. 3-9 cm [1¼-3½ inches] of positive ease. Before beginning your project, measure yourself to determine which size will fit you the best.
XS (S) M (L) XL (2XL) 3XL
Finished Bust circumference: 89 (94) 99 (104) 113 (123) 134 cm OR 35 (37) 39 (41) 44½ (48½) 52¾ inches
To fit bust circumference: 80-85 (85-90) 90-95 (95-100) 100-110 (110-120) 120-130 cm OR 31½-33½ (33½-35½) 35½-37½ (37½-39½) 39½-43¼ (43¼-47¼) 47¼-51¼ inches
Sleeve circumference: 30 (32) 34 (36) 38 (41) 41 cm OR 11¾ (12½) 13½ (14¼) 15 (16¼) 16¼ inches
Total length: 51 (52) 54 (57) 59 (60) 62 cm OR 20 (20½) 21¼ (22½) 23¼ (23½) 24½ inches
Materials
Quince & Co Sparrow: 7(7) 7 to 8 (8) 9 (9) 10 skeins [these numbers are 

approximations]
3mm/US2.5 - 24" circular needles
3mm/US2.5 - 32" or 40" circular needles
2.5mm/US1.5 - 24" ciruclar needles
2.5mm/US1.5 - 32" ciruclar needles
3mm/US2.5 double pointed needles
2.5mm/US1.5 double pointed needles
stitch markers